In the 2017/18 budget read on Thursday, the government set aside billions for vulnerable groups and the elderly.  Treasury Cabinet Secretary Henry Rotich allocated Ksh7.9 billion for cash transfers to the elderly persons, saying it will cover ALL persons above the age of 70 years from January next year, irrespective of their income. They will also get free medical cover under the National Hospital Insurance Fund (NHIF).
"Given the experience of the cash transfer programme to the elderly," Mr Rotich said, "the Government has decided to enhance coverage of the cash transfer programme to fully support all old persons above the age of 70 years. I therefore, propose that beginning January 2018, all persons above the age of 70 years will receive a cash transfer in the form of a monthly stipend and NHIF cover that will be paid by the Government."
Kenya has around 800,000 people aged over 70, according to United Nations Development Programme (UNDP) which in 2015 puts the figure at 747,000, who are all entitled to the stipend. The Kenya National Bureau of Statistics figures puts the number at 774,768. Those under the current programme of those above 68, get a stipend of Sh2,000 per month.
Those covered under this programme include very prominent Kenyans and it will be interesting to see if they will enroll in the programme as beneficiaries. They include:
1.Daniel arap Moi: Currently he is aged 92 years, hence entitled to the government stipend of Ksh16,000 and NHIF cover. This will be on top of Ksh16.8 million, Sh560,000 monthly pension, and a set of allowances totaling Sh13 million annually which retired presidents earn.
2.Mwai Kibaki: Like Moi, Kibaki enjoys the presidential retirements benefits from the state. Currently the former president is aged 85 years, an automatic beneficiary of the government scheme.
3.Raila Amolo Odinga: Former Prime minister and a presidential hopeful also benefits from the Ksh16,000 and NHIF cover being offered by the government to the aged. He is now 72 years old.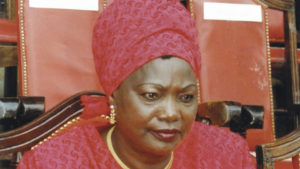 4.Ngina Kenyatta: Ngina Kenyatta, popularly known as "Mama Ngina", is former First Lady of Kenya. She is the widow of the country's first president, Jomo Kenyatta, and also the mother of President Uhuru Kenyatta. She is 85 years of age.
5.Moody Awori: Commonly known as Uncle Moody by Kenyans, the former vice president, will be clocking his 89th year of age in December. He automatically joins the league of other estimated one million old folks who will receive Ksh16,000 per month.
Next Read >> Budget hits President Uhuru's favourite drink
6.Nicholus Biwot: Kipyator Nicholas Kiprono arap Biwott is a Kenyan businessman, politician and philanthropist. Biwott has served as a civil servant, Member of Parliament and government minister, during which time he has held eight senior ministerial positions, worked alongside Kenya's first three presidents – Jomo Kenyatta, Daniel Moi and Mwai Kibaki. He is now 75 years old.
7.Manu Chandaria: The Kenyan businessman of Indian descent born in Nairobi on 1 March 1929 is now 88 years old. Along with being the chairman and CEO of the Comcraft Group of Companies, a billion dollar enterprise that has a presence in over 40 countries, he is on the boards of several prominent East African companies.
Isn't this a great move? Scroll down to share your views
CLICK HERE FOR CRAZY DEALS ON SMARTPHONES FOR LESS THAN 10k
[crp]