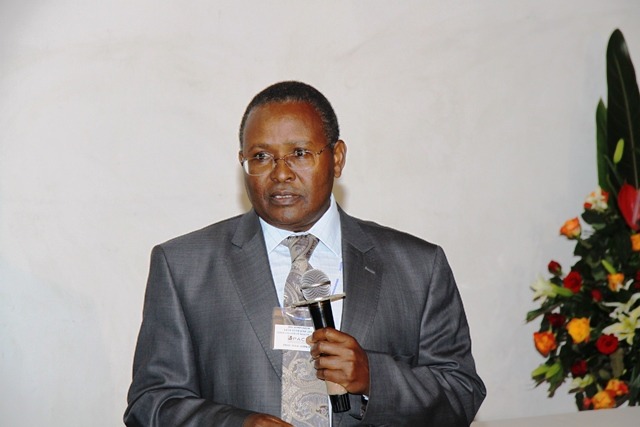 Professor Isaac Kibwage who has been the Acting Vice-Chancellor of Egerton University since November 2020 has been confirmed as the institution's substantive Vice-Chancellor.
His appointment follows a competitive recruitment process undertaken by the Public Service Commission (PSC). Other candidates who were considered for the role include Egerton's acting DVC Research and Extension Prof Bockline Omedo Bebe and the university's former deputy VC Academic Affairs Prof Alexander Kigunzu Kahi as well as other top administrators from Machakos University, Murang'a University of Technology and Kibabii University.
Kibwage was previously Egerton's Deputy Vice-Chancellor in charge of Administration, Planning and Development.
The scholar has over 40 years of experience in the field of Pharmaceutical Chemistry and is widely published in his discipline. He spent time as the Principal of the College of Health Sciences at the University of Nairobi (UoN) before joining Egerton.
"Following the interview process carried out by the Public Service Commission (PSC) and after consultations with the Cabinet Secretary for E*******n, in exercise of the provisions of section 35 (10 (a) (v) of the Universities Act, 2012 we, the Egerton University Council, have on October 5, 2021 appointed Prof Isaac Ongubo Kibwage as the new Vice-Chancellor of Egerton University,"  a memo addressed to students and staff confirmed.
The Pharmaceutical Society of Kenya conferred on Kibwage the title of Fellow of the Pharmaceutical Society of Kenya. He is also the awardee of a Head of State Commendation (HSC).
Prudent utilization of resources remains a key concern for students and staff at the instution among others and is expected to be a key a priority for Kibwage. Like many other universities in Kenya, the institution is grappling with debt.
Available data indicates that Egerton University is facing a debt of over Ksh6 Billion.
The situation has been driven by reforms in the e*******n sector which have since 2016 seen a major drop in students enrolling for the "parallel" self-sponsored degree programmes leaving public and private universities without a lucrative revenue stream.
Universities including Egerton have outstanding remittances worth billions of shillings to the National Hospital Insurance Fund (NHIF), the Kenya Revenue Authority (KRA) , the National Social Security Fund (NSSF), saccos, insurance companies and pension schemes.