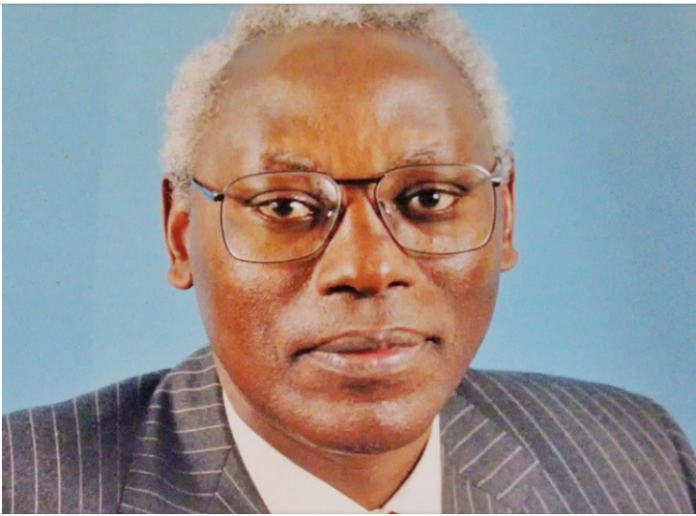 In a society where success is measured by how much wealth you control, Philip Ndegwa would easily be judged by how daring he was when it came to investment. Mr Ndegwa, who rose from a mere government officer to the third governor of the Central Bank of Kenya, was reportedly the first Kenyan to bank one billion shillings.
Ndegwa, an alumnus of Alliance High School and Makerere University, joined the government in 1965 as an advisor on economics and planning. And after several years as the chairperson of various banks including  Kenya Commercial Bank, he became the second Governor of the Central Bank of Kenya in 1982, replacing Duncan Ndegwa.
The Ndegwa family is associated with old money in Kenya and are ranked among the wealthiest families in the country. By the time of his death in 1996, he had accumulated property worth Sh9 billion, a huge fortune at the time and even now, and a figure that most Kenyans read or hear about.
But Philip Ndegwa's family still mints one of Kenya's most secured fortunes, whose hatching stretch back to 1974, the year Ndegwa founded First Chartered Securities, an indigenous investment outfit with some 20 civil servants and business moguls as shareholders.
The One Billion Man
In the year 2000, the Nairobi offices of the Economic Review magazine, then an authority on economics and business matters in Kenya, witnessed unusual enthusiasm. America's Forbes magazine received a tip-off from a financial analyst at a time when it was developing a list of Kenyans who had built fortunes from the private business.
Forbes ended up with two names: Philip Ndegwa, the former Central Bank of Kenya governor; and Kenneth Matiba, an established businessman and politician whose fortune later vaporized due to political witch-hunt and poor management.
Forbes wanted to know from the Economic Review editorial desk if Ndegwa was the first Kenyan to hit the one billion-shilling wealth mark. Indeed, he became the first Kenyan to be publicly acknowledged to have banked one billion. Even now that's a fete only a select few in Kenya manage.
See Also >> Meet Former CBK Governor Playing Golf And Writes Books at 96
Philip Ndegwa was the third governor of the Central Bank of Kenya after Leon Baranski and Duncan Ndegwa. He served from 1982 to 1988. He was a product of Alliance High School and later on joined Makerere University before proceeding to Harvard University.
The patriarch of one of Kenya's wealthiest families joined the civil service in 1965 after being appointed an economic advisor. He would then serve as permanent secretary in various ministries including Agriculture, Finance and Economic Planning.
First Chartered Securities
The formation of First Chartered Securities alongside 20 other civil servants was what made Philip Ndegwa's fortune. This was an indigenous investment outfit which is still a source of revenue for his family. The outfit went on to buy 100% stake in ICEA, which partnered with Lion of Kenya Insurance to form ICEA Lion Group.
The savvy economist also bought 24.98% in NIC bank. In 2012, this stake was valued at Ksh5.22 billion. He also ventured into real estate through AMbank House and the prestigious Riverside Estate in Nairobi. By 1999, the property portfolio was worth $100 million (Ksh10 billion) through its insurance arm alone.
First Chartered Securities also has interests in logistics, agriculture, beverages and milling. It is said to control three tea estates and tea processing factories. Ndegwa's family also owns majority shares in Unga Group through Victus Limited.
The Ndegwas once had interests in Inchcape Shipping, the largest dry shipping dock between Cairo and Cape Town. Catering firm Nairobi Airport Services (NAS) was also once among the many interests controlled by First Chartered Securities.
Read >> Launching Business Daily – How It Disappointed Day One On The Streets
Among Philip Ndegwa's notable achievement was his role in the privatization of Kenya Airways. Mr. Ndegwa also served as chairman in a number of boards including:
ICEA (Insurance Company of East Africa)
Kenya Commercial bank (where he served as executive chairman)
First Chartered Securities Limited
Kenya Pipeline Company
Kenya Revenue Authority
Kenya Airways
The Agricultural Finance Corporation
The Society for International Development, Kenya Chapter
He also served as an International Economic Expert at the United Nations and worked with UNEP as an assistant director.
Déath & Tributes
The former CBK governor dìed on 7th January 1996. He was eulogized by President Daniel arap Moi. In 2000, the UN released a tribute dedicated to the Ndegwa titled: Renewing Social and Economic Progress in Africa: Essays in Memory of Philip Ndegwa. The volume was a research of multiple authors.
Sons & Family
Among the beneficiaries of his vast empire were his sons James and Andrew Ndegwa who split the NIC stake and were the largest shareholders. Andrew Ndegwa is the chairman of NIC Bank and executive director of First Chartered Securities. The Oxford graduate has an MA in Philosophy, Politics and Economics. His 6.5% stake at NIC is said to be worth Ksh1.1 billion.
James Ndegwa, an insurer by profession, had a 6-year stint at Capital Markets Authority as the board chair. He was appointed in April 2015 and re-appointed on 28th March 2018. He holds a BA and an MA from Oxford University.
Stake In NCBA
NCBA came into existence in 2019 following the merger between NIC Bank Group and Commercial Bank of Africa making it the third largest lender in Kenya. The Ndegwas stake in NCBA group is 8.4 percent while President Uhuru Kenyatta and Merali  families hold 13.2 percent and 5.9 percent stake respectively.
Next Read >> Meet The Village Billionaire Who Owns a Chopper