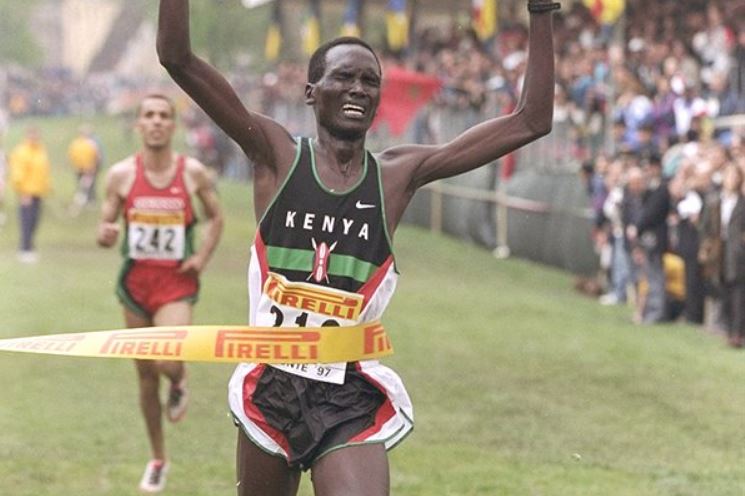 Kenyan five time World Cross Country champion, Paul Tergat, has donated one of his kit to the International Association of Athletics Federation (IAAF) to be used in this year's World Cross Country Championships slated for March 30 in Aarhus, Denmark.
A statement from IAAF confirmed that Tergat had donated one of his competition jersey to the federation's heritage collection.
"IAAF Heritage is delighted to announce that Kenya's five-time world cross-country champion Paul Tergat has become the latest famous athlete to donate competition kit to the IAAF Heritage Collection," read the statement.
Tergat wore the iconic kit when he struck his third gold in Turin, Italy in 1997.
The kit willl be on show at the World championships in a mini exhibition set to feature text and photographic based displays, archive video and artefacts dating back to the early 1800s.
Highlighting the modern era in the IAAF Heritage Collection will be competition spikes and clothing from several multiple gold medallists from the IAAF World Cross Country Championships.
READ : DROP IN FUEL PRICES EASES JANUARY INFLATION
Tergat was glad for the opportunity to be part of the ceremony and also part of the history of the sport.
"I really glad to be able to donate my kit to IAAF Heritage and to support their historic exhibit in Aarhus," he said, "I'm looking forward to seeing the display when I visit the IAAF World Cross Country Championships in Aarhus."
https://twitter.com/iaaforg/status/1091229687169380353/photo/1
The five time gold medallist is one of the few winners of the world title that have been invited to celebrate 200 years of cross country running in the 43rd edition of the championships in March.
Tergat made history when he became the first man in the history of the championship to win the world title five years in a row. The 49 year old won world titles in 1995 Durham, 1996 Stellenbosch, 1997 Turin, 1998 Marrakech and 1999 Belfast.
However, he was not the first person to win the title five times as fellow compatriot John Ngugi had already done so.
Cross country racing first debuted in 1819 in the English school of Shrewsbury as a paper chase game called 'Hare and Hounds'.
The mini-exhibition takes visitors along a timeline from those early days to the establishment of the sport across the UK in the 1830s and then, via its mention in Thomas Hughes' famous 1857 Rugby School novel Tom Brown's School Days, across the Atlantic to America.
This year the sport will be marking 200 years of its existence from 1819 to 2019. The exhibition ceremony will begin on 28th February but will stay open until the date of the Championship, March 30.
SEE ALSO : AEROBICS IMPROVES THINKING SKILLS