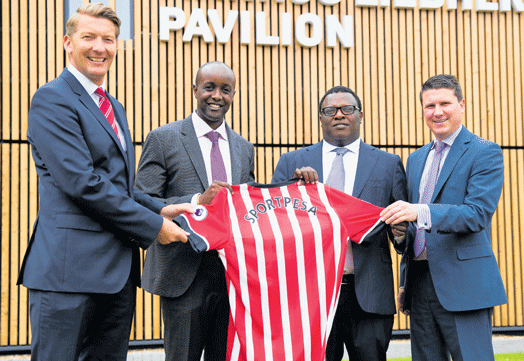 Kenyan businessman and former SportPesa Chairman Paul Ndung'u has called out former President Uhuru Kenyatta and members of his family, whom he accuses of orchestrating an íllegal takeover of the multi-billion shilling SportPesa brand.
In a rare TV interview with KTN, Ndung'u squarely blamed former President Kenyatta, claiming he failed to stop members of his family from engineering a move against him and other Kenyan shareholders. He referenced the previous administration's sustained fight against the bettíng sector over its socio-economic effects and tax obligations which saw SportPesa exit the Kenyan market in 2019, stating that he faced 'intimidation' by the former President who cited the issues in a meeting with him in the presence of other elders at State House. Ndung'u, therefore, argued that he was shocked when members of the Kenyatta family ended up later taking over the brand.
"The President had called me in front of eminent elders and said he will not allow bettíng into Kenya and that he will not allow Paul Ndung'u or anybody else to exploit the Kenyan citizens. He went ahead to say that our people are committing suícide, the young people are committing suícide, and that his family is against bettíng – which, through that intimidation in a meeting in State House, I had to accept what he said because he was the President."
"So today it pains me that as the former President he has allowed his family and members of his family to take over Sportpesa Limited whose brand was created by ordinary Kenyans who have worked hard to invest in the business and grow the business," Ndung'u claimed.
Ndung'u has been locked in a legal battle with SportPesa CEO and newly-elected Kasarani MP Ronald Karauri, whose company Milestone Games received the transferred SportPesa brand and its associated paybills and domains. Karauri in August denied claims that the family of outgoing President Uhuru Kenyatta orchestrated a take-over of the firm's license.
He was responding to claims shared by Dennis Itumbi, a communications strategist in President William Ruto's campaign. Karauri denied that a member of the Kenyatta family had been awarded the company's Bettíng Control and Licensing Board (BCLB)-issued license.
"Hi @OleItumbi the SportPesa story you've been fed is fake, and whoever has been telling it has already been sued. Please talk to me before you make such statements," Karauri tweeted on Thursday, August 18.
Ndung'u and Asenath Wachira Maina, another prominent Kenyan businessman, were among key shareholders in Pevans EA who introduced SportPesa to the market. Ndung'u in 2020 claimed that local shareholders were not informed of the transfer of the brand, and further claimed that they were excluded from purchasing shares in Sportpesa Global Holdings Limited (SGHL), diluting their ownership in the UK-based firm. The matter has been in court since, even as Milestone Games battles to secure an operating license.
Karauri as of 2020 held a 54.4% stake in Milestone Games, which has been operating with the SportPesa brand in Kenya.  Francis Waweru Kiarie, had acquired an effective 40.9 percent stake in Milestone. Kiarie also owned a one percent stake in Pevans.
Ndung'u held a 17 per cent stake in Pevans EA and 2.8 percent stake in Sportpesa Global Holdings Limited (SGHL). Foreign investors held a 47 per cent stake in Pevans and 80 per cent of SGHL. Asenath Wacera Maina owned 21 per cent of Pevans EA.
READ NEXT>>Govt Spends Ksh6B to Fully Own Telkom Kenya