It wasn't just Kenya that got to hear about a Saudi-born national who was the leader of a terrorist group known as Al Qaeda — the rest of the world also did. Twenty-one years ago, when a bomb exploded in Nairobi, the name of Osama Bin Laden began its ascent into the public limelight.
Three years before the World Trade Center in New York was felled by two planes that crashed into the Twin Towers, an audaciously bold offensive was carried out at the site of the US Embassy in Nairobi.
The bomb that exploded at the gate of the US Embassy in Kenya affected nearby buildings with Co-operative Bank headquarters and the Ufundi House building being heavily damaged (Ufundi House collapsed).
Within a span of nearly one kilometre radius on Haile Selassie Avenue, a combination of a heatwave, shrapnel and shattered glass were all encompassed in the seismic wave that shook the city following the explosion. Over 200 people died while another estimated 4,000 plus sustained injuries.
Almost simultaneously a similar attack was executed at the US Embassy in Dar-es-Salaam. Bin Laden and Al-Qaeda took the credit.
The East African attacks "made a lot of people to sit up and take notice", according to British newspaper The Guardian which in 2015 quoted a Libyan veteran activist.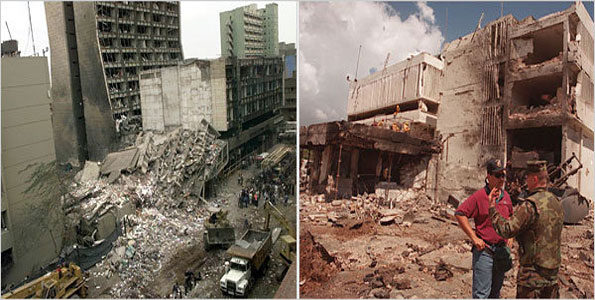 Before then, Bin Laden had not been thought of as a serious threat. Neither was Al-Qaeda. But the man from one of the wealthiest families in Saudi Arabia was thrown into the limelight.
So too was the group he had founded in August 1988. Thought of as a rich kid who couldn't dig in when push comes to shove, the bombings of Kenya and Tanzania brought him centre stage.
A US court indicted him of the bombings and sought to extradite him from Afghanistan where the ruling Taliban were housing him (he had been in exile from Saudi Arabia since 1994 and remained stateless till his death).
The indictment propelled him into the US Federal Bureau of Investigations (FBI) Top Ten Most Wanted fugitives. When the September 11 attacks happened in 2001, Bin Laden was again mentioned in a list of 22 Most Wanted Terrorists.
His listing was in relation to the 1998 bombings indictment. He remains to date the only individual to have appeared on both lists.
Even though the US did hunt him down and killed him on May 2, 2011, his legacy remains a painful one for many across the globe.
As then US President Barack Obama said, "… yet we know that the worst images are those that were unseen to the world. The empty seat at the dinner table. Children who were forced to grow up without their mother or their father. Parents who would never know the feeling of their child's embrace."
So it is for the Kenyans who lost, suffered and whose lives changed forever. All because of Osama Bin Laden and that day in August 1998.