A screenshot that went viral on social media purporting to be from the ODM Party Director of Communications, Mr Philip Etale, criticising Kirinyaga Governor Anne Waiguru joining UDA for defecting to UDA was fake.
In the post shared on 26th October 2021, Mr Etale expresses anger at Waiguru because she was ungrateful to the ODM Party, which helped her avoid impeachment over graft cases that had dogged her.
In June last year, ODM Party official, June Mohammed, rallied the party's senators to save Waiguru from impeachment at the Senate over loss of money charges linked to the National Youth Service (NYS) graft.
On 26th October, Waiguru officially joined UDA, which is led by Deputy President William Ruto.
See >> Teenage Boy Gets Sh10M From UK Organisation
A fact-check on the screenshot, shared in Whatsapp groups, shows it was fake. First, Mr Etale, who is very active on both Twitter and Facebook, flagged the it as fake news on his Twitter account on October 26.
"I always know what to post and what not to post," he said on Twitter. "Even in a dreamland, I can NOT post such nonsense. I have been around LONG ENOUGH to know where, and how poiso,n smells. Desperados out there; be smarter."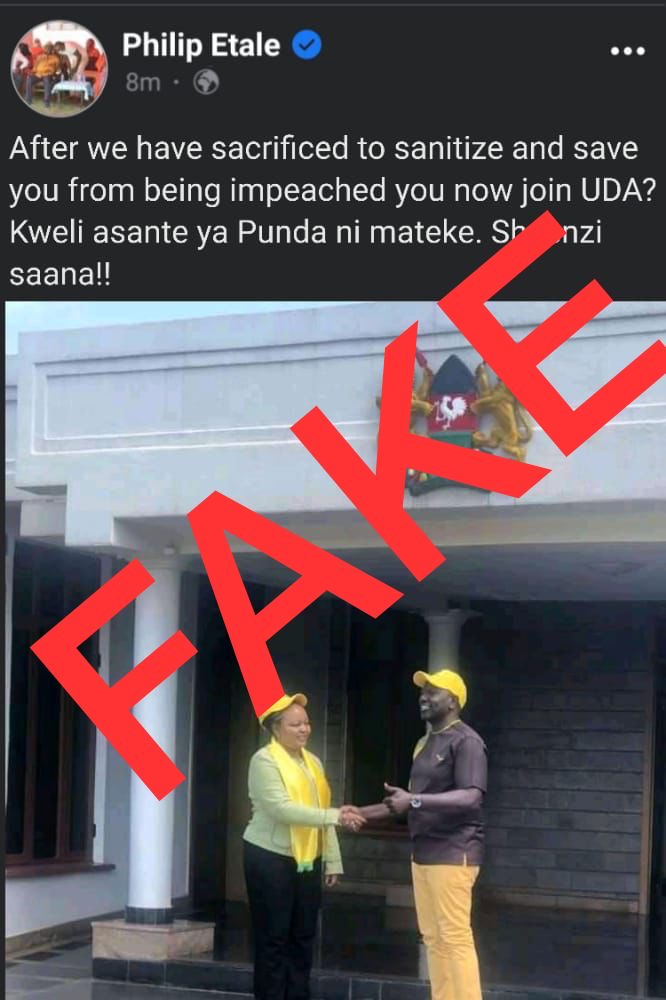 A check through ODM Party's Twitter and Facebook posts does not yield any such post or communication.
Secondly, a close scrutiny shows the verified indicator icon used on the fake screenshot has a black tick in a blue round background, while the verified badge for Facebook is a white tick inside a ruffled blue circle.
VERDICT: The screenshot alleging ODM Party cried foul over Waiguru joining United Democratic Alliance (UDA) has been disowned by the party's communications director and is thus FAKE.
[This story was produced by Business Today in partnership with Code for Africa's iLAB data journalism programme, with support from Deutsche Welle Akademie ]
>> Shock Of Newspaper Front Page With Vulgar Headline