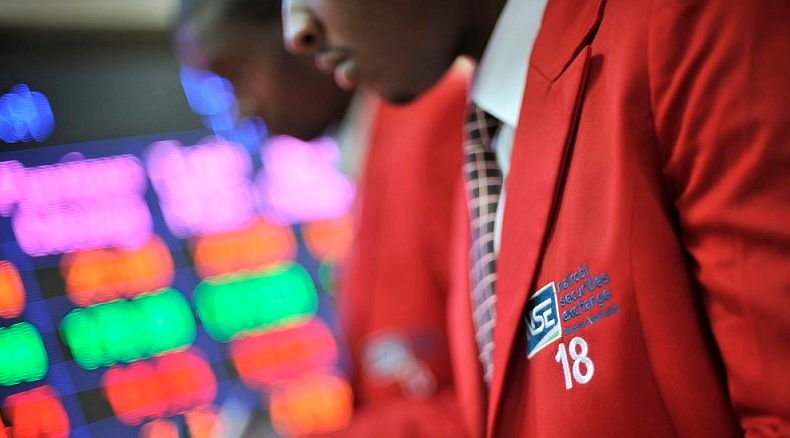 The third day of trading at the bourse in November saw the Nairobi Securities Exchange (NSE) open on November 5 with a total of 8.3 million shares valued at Ksh206 million.
This was against the 23.9 million shares valued at Ksh608 million posted on Friday, November 2 and way below Thursdays high of 66.5 million shares traded at Ksh 1.7 billion that was recorded on Thursday.
The NSE 20 share Index was up 8.25 points to stand at 2839.35 on November 5, with the All Share Index (NASI) shedding 1.66 points to settle at 146.23. The NSE 25 Share index was down 19.36 points to stand at 3710.54.
The Bond Market had bonds worth Ksh2.3 billion transacted.
Sectors Wrap
The Banking Sector had shares worth Ksh62.7 million transacted which accounted for 30.43% of the
day's traded value.
Equity Group Holdings moved 807,000 shares valued at Kes.32M at between Ksh39.50 and Ksh40. Diamond Trust Bank was unchanged at Ksh155 and moved 142,000 shares valued at Ksh22 million.
READ : DAYSTAR STUDENT CROWNED MISS UNIVERSE KENYA 2018
KCB Group moved 124,000 shares worth Ksh4.7 million and closed at Ksh38.
The Commercial & Services Sector had shares worth Ksh2.79 million traded and accounted for 1.35% of the day's turnover.
Nation Media Group moved 35,000 shares valued at Ksh2.5 million and closed at a fairly stable price of Ksh69.50.
The Energy & Petroleum Sector had shares worth Ksh20.6 million traded and accounted for 9.98% of the day's turnover.
READ : WHY VIUSASA WAS DOOMED TO FAIL FROM THE START
KenolKobil exchanged 955,000 shares valued at Ksh17.5 million at between Ksh18.40 and Ksh18.60. Kenya Power & Lighting closed 2.47% higher to Ksh4.15 moving 608,000 shares valued at Ksh2.5 million.
The Manufacturing Sector had shares worth Ksh3.39 million transacted which represented 1.65% of
the day's traded value.
E.A Breweries shares climbed by 1.17% to Ksh173 with shares worth Ksh1.9 million transacted.
In Telecommunication, Safaricom had 4.7 million shares valued at Ksh112 million transacted at between Ksh23 and Ksh24.50. This represented 54.45% of the day's traded value.
SEE ALSO : MATATU OPERATORS HIKE FARES IN NAIROBI