NSE Performance: Increased foreign investor interest in Safaricom and banks pushed weekly equity turnover at the Nairobi Securities Exchange (NSE) to KSh5 billion. This was a volume of 176 Million shares traded against a turnover of KSh2.4 Billion and a volume of 92 Million the previous week.
The telecommunications and banking sectors were the most active, accounting for 82.03% and 10.67% of the week's activity respectively, with Safaricom moving 140 million shares valued at KSh 4.2 billion.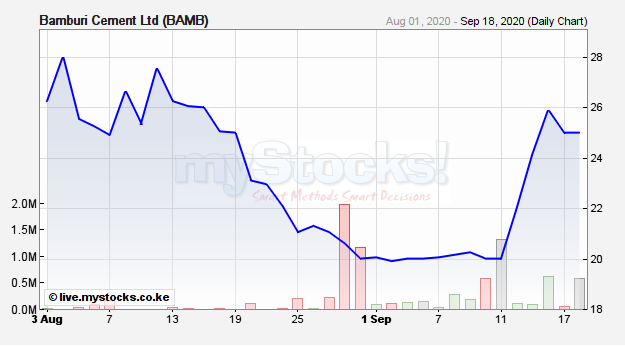 The top gainers during the week were led by Bamburi Cement, whose share price rose 25% from KSh 20 to KSh 25.

It was followed by Home Africa whose share price climbed 13.51% from KSh 0.37 to KSh 0.42. Express Kenya was third with its share prices rising from KSh 4.25 to KSh 4.80, an increase of 12.94%.

Other gainers at the bourse during the week were Flame Tree Group whose share price rose 8.66% to    KSh 1.38 while HF Group closed this category with its shares rising from KSh 4.05 to KSh 4.37, a price hike of 7.90%.

The NSE 20 and the NSE 25 share indices similarly shed 28.28 points and 21.89 points to close the week at 1847.41 and 3,238.77 points respectively. The NSE 20 share index has shed up-to 30.40% in index value since the year began.

In their outlook on NSE performance, investment analysts maintain that activity at the Nairobi bourse is likely to increase as more foreign investors, who dominate its activities, come back after taking flight to safe havens at the height of the coronavirus pandemic.
The derivatives market closed the week on a high note, with September contracts expiring on Thursday, a total of 127 contracts valued at KSh 3.6 Million.
Secondary trading on the bond market saw a decline in activity with bonds valued at KSh 15.5 billion traded as compared to the KSh 21 billion recorded the previous week.