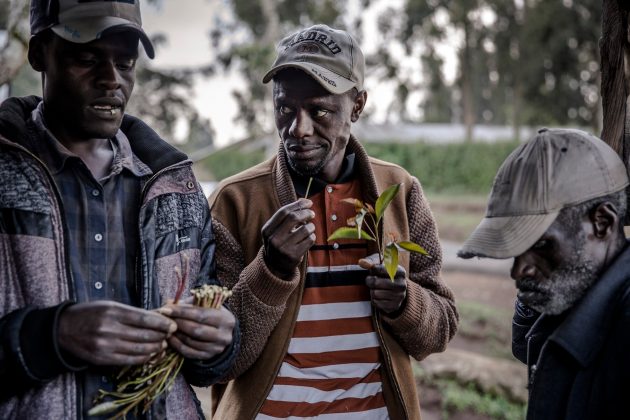 A group comprised of several members of the Nairobi County Assembly is calling for various interventions to support the trade of Miraa (Khat) in  Kenya's capital.
The MCAs followed Mombasa Governor Ali Hassan Joho's cue as they called for the removal of levies targeting miraa transporters and traders. During Orange Democratic Movement (ODM) leader Raila Odinga's tour of Meru County on Monday, October 18, Joho declared that miraa transporters in Mombasa County would no longer be charged cess tax.
Cess tax is charged by county governments on goods when they move across county borders, while miraa traders in Nairobi also pay the county a Ksh2,000 waste collection levy.
"I would like that (removal of cess) to also be done in Nairobi County. Removing such barriers will help the miraa traders and transporters," asserted Nominated MCA Dorcas Kanario who is reportedly eyeing the California Ward seat.
The MCAs further called for a special miraa market to be constructed in Nairobi.
Highlighting the fact that the crop is sold by the roadsides, they argued that construction of a market would not only boost trade but also adherence to hygiene standards for the safe consumption of miraa.
The Kenya Bureau of Standards (KEBS) in June approved a new code of practice to guide sanitary production and distribution of miraa produce in the country.
Much of the Miraa consumed in Nairobi is currently sourced from the Mt. Kenya East region before being transported to the bustling business hub of Eastleigh. From Eastleigh, it finds its way to neighborhoods across the city.
"The traders usually sell the miraa on roadsides especially in Pumwani and it is not good for health because of things like dust in such places. The county government should therefore set aside an area to act as a market for them," Kanario stated.
Joho had stated that he chose to drop the cess tax as a way of appreciating Meru residents for how they welcomed Odinga.
"From today, the miraa coming into Mombasa will no longer be taxed," he told a cheering crowd.
With the reclassification of miraa as a controlled drug in most European countries, the miraa trade in Kenya has taken a hit forcing traders to focus on the expansion of existing markets and penetrating new markets.