Kenya Railways on Monday, December 7 rolled out the Jomo Kenyatta International Airport (JKIA) express service as part of the revamped Nairobi Commuter Rail network.
The service targets airport users as well as regular commuters. It combines rail and road transport for passengers going to and from their airport.
Passengers heading to the airport will be ferried in Diesel Multiple Units (DMUs) to Embakasi Village Station, where they will board a courtesy bus bound for JKIA. A ride from the Nairobi Central Station to JKIA will cost Ksh500.
Similarly, airport users and workers headed for the city will be able to use the express service to get to Nairobi.
The inclusion of Bus Rapid Transport  (BRT) buses is central to the plan by the government to revitalize the commuter rail service and decongest Nairobi.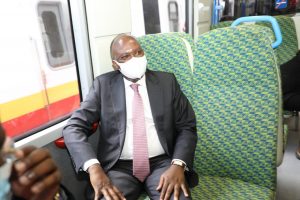 The buses are meant to connect train stations with matatu and commuter bus termini, facilitating the last mile.
Transport Cabinet Secretary James Macharia was present at the launch of the new service, and hailed it as a key milestone in the plan to revitalize commuter rail services.
The government has so far spent over Ksh6 billion on the modernization plan for the railway service.
Speaking when he launched five refurbished DMUs in November, President Uhuru Kenyatta noted that the program was essential to stem losses from time wasted in traffic snarl-ups.
"By diversifying our urban transport solutions and giving commuters the options of faster and cheaper travel by rail, we will reduce the number of vehicle trips, thereby save Kenyans their time and money while enhancing air quality," he stated.
Already, Kenya Railways has renovated the Nairobi Central Railway Station to support the revamped service.
An integrated ticketing system with offsite booking was launched, and works initiated on various access roads.
Kenya Railways is aiming to ship in six remaining DMUs from Spain and to construct an additional 20 mini-train stations along the Kikuyu, Ruiru and Embakasi lines.
The day-long hourly train service currently serves residents of high-density residential areas including Ruiru, Mwiki, Embakasi Village, Syokimau, Athi River, Kikuyu, Kahawa, Githurai, Dandora, Pipeline, and Donholm.