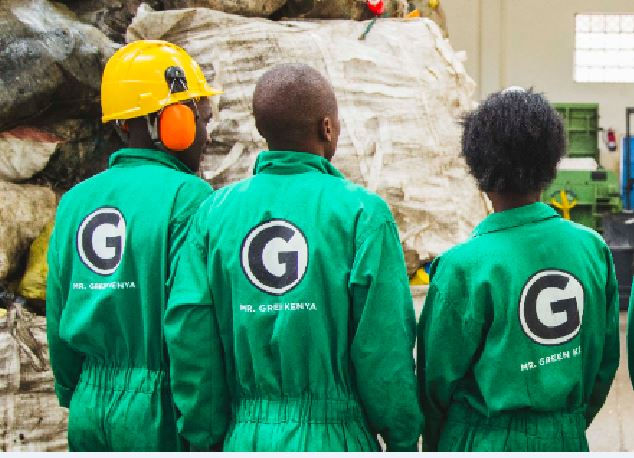 Mr Green Africa, a Kenyan plastics recycling pioneer, has been boosted by a major round of investment by impact-driven investors and key industry stakeholders to scale its business model across the continent.
The investment will allow Mr Green Africa to improve the supply chain and pay its waste pickers a living wage.  Mr Green Africa also plans to increase the capacity of the production plant to process 15-20,000 metric tons of plastic waste in the East Africa region.
"Mr Green Africa's purpose is to turn waste to value and make a localized circular economy in emerging markets commonplace. The deal shows the company was able to attract impact investors to embed sustainable environmental and social impact at its core. Mr Green Africa was also able to engage critical plastics supply chain stakeholders to ensure business decisions are guided by contextual expertise and remain future-proof," said the venture in a statement.
Among the investors making their contribution include DOW, a leading material science company that will support Mr Green Africa innovations on plastic collection and recycling, and product development, with a focus on flexible packaging feedstock.
Minderoo, through its 'No Plastic Waste' and 'Walk Free' initiatives, will support Mr Green Africa in its impact journey. In particular, there will be a focus on improving the livelihoods of informal waste pickers and making them part of the Mr Green Africa supply chain in a sustainable way.
AlphaMundi Group (AMG), a Swiss impact investing manager specialized in small enterprise finance in emerging markets, with a regional office in Nairobi, is also investing through its AlphaJiri Investment Fund (AJIF).
The BESTSELLER Foundation, a circular economy-focused Impact Investor is also in the line-up to help the recycler.
DOB Equity, a leading Dutch family-backed impact investor in East Africa and Global Innovation Fund, a non-profit innovation fund headquartered in London, will also chip in to help.
"We are delighted to bring together and align such diverse groups of partners and investors to join this journey of Mr. Green Africa. It's a testament to the authenticity of the vision & purpose of what the company and its people stand for," said Keiran Smith, Co-Founder and CEO of Mr Green Africa.
The company plans to create a new sourcing stream by integrating consumers from all income brackets incentivized to deposit plastic waste back into the MGA collection systems.
To ensure a replicable and internationally accepted value chain, benchmarks and standards on quality and traceability are key.
"Mr Green Africa has already done important leg work on this topic and is looking to release a business model-specific framework that will enable it to measure and monitor its impact growth – just like MGA (Mr Green Africa) measures its revenue growth month on month, it will measure its impact growth," added the company.
Read: KEPSA Trains Over 100 Youth to Create Sustainable Businesses from Waste
>>> Towards a Circular Economy for Plastics, Where it Does Not Become Waste