Mwala Constituency candidate Justus Kimilu Safari is now banking on Ksh10 donations from the constituents to help him fund his campaigns ahead of the August 9 polls.
Safari is running on a People's Trust Party (PTP) ticket, which is led by former Water Minister John Mutua Katuku.
"If you give people money, then you take leadership mantle without any debt. This means you will give them little or no development in return. But if they sponsor you to Parliament, you will always be indebted and will work for them," said Safari.
"In August we need leadership that has been initiated by the people so that our elected leaders go to work instead of trying to 'recover' the money they 'lost' during elections through handouts."
Safari is seeking to unseat the incumbent Vincent Musyoka alias Kawaya, who is vying on a United Democratic Alliance (UDA) ticket led by Deputy President William Ruto.
Others in the race include Ms Roda Nduku of Kanu, Barckleih Kilei of Wiper party, Kilungu Julius Mutua of Chama Cha Uzalendo, and Kioko Grace Muthakye of ODM.
In his campaigns, Safari has promised to make quality educatįon accessible to all learners in the constituency through bursary allocations and full sponsorship of bright students who are needy.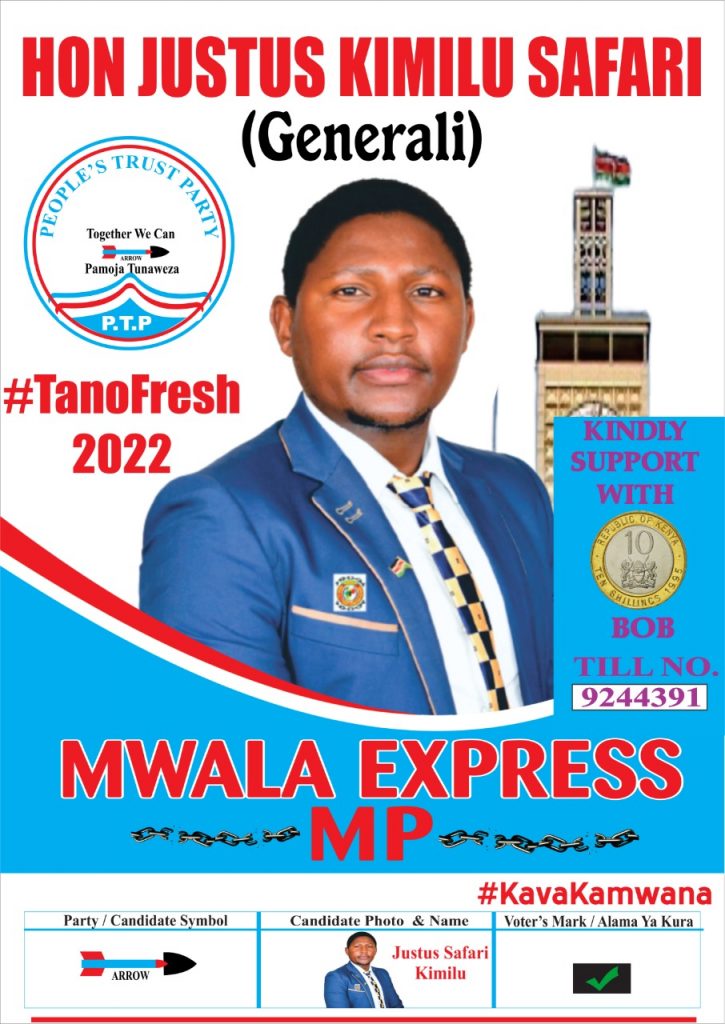 He has also promised clean water for the residents, by having a borehole in every primary school and market to serve the community.
Safari has also promised to establish an empowerment kitty that will target SMEs and Saccos in Mwala Constituency, to enable them to borrow to boost their businesses and cater for emergent needs like paying school fees.
Other promises include three Level IV hospitals in the constituency, two police posts per ward, electricity connections and infrastructure.
Previously, Safari served as the Secretary-General for Moi University Students Association (MUSO) before transitioning to business after graduating from Campus.
He holds a bachelor's degree in Political Science.
Read: Ascott Debuts Its Serviced Residence In Kenya With Somerset Westview
>>> Stanley Kinyanjui: Billboard Billionaire Cashes In on Politics