For Standard Group, an apology and retraction of an article that has become a subject of ligation may have come a little too late.
About a month ago, Grain Bulk Handlers chairman Mohamed Jaffer's lawyers wrote to Standard Group demanding an apology and retraction of an article it published on him on 11th August.
The article, a report from a High Court ruling, alleged that the Mombasa-based businessman had been ordered to refund Ksh1.8 billion a company he is understood to own, Maritini Free Port Ltd, was illegally paid by the National Land Commission as part of SGR compensation.
But the media house ignored the demand and played hardball – or so it appeared – according to correspondence by Jaffer's lawyer, Ken Nyaundi of Marende & Nyaundi Advocates, seen by Business Today.  Miffed by hard silence from Standard's editorial and legal departments, Jaffer three weeks later instructed his lawyers to file a suit, which they did on 1st September.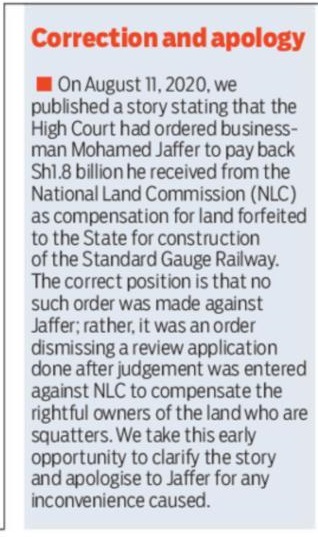 Caught between a rock and a hard surface, Standard yielded and published an apology and retraction on 10th September. Apparently, Standard slammed the stable door after the horse had bolted.
The Standard reported that Maritini Free Port Ltd, a company owned by Mr Jaffer, had irregularly received Ksh1.8 billion money in 2015. The lawyers argue that Standard reported that Jaffer was the person against whom the court order was made for the refund of Ksh1.8 billion yet he was not party to the suit.
Immediately thereafter, on 12th August 2020, the law firm issued a demand letter upon Standard demanding a retraction, apology and a written admission to pay damages to Mr Jaffer but, "none of this was forthcoming," says Dr Nyaundi.
 "On August 11, 2020," the Standard newspaper editor writes, "we published a story stating that the High Court had ordered business-man Mohamed Jaffer to pay back Kshl.8 billion he received from the National Land Commission (NLC) as compensation for land forfeited to the State for construction of the Standard Gauge Railway.
"The correct position is that no such order was made against Jaffer: rather, it was an order dismissing a review application done after judgement was entered against NLC to compensate the rightful owners of the land who are squatters. We take this early opportunity to clarify the story and apologise to Jaffer for any inconvenience caused."
But Jaffer's lawyer say the effort fell short of their client's demands.
"As you appreciate, your correction and apology, squeezed on page 2 of your September 10th 2020 edition, does not comply with our demand and is therefore unacceptable," Dr Nyaundi says in a response to Standard legal officer Chris Waithaka. "Our instructions are to proceed with court action."
Dr Nyaundi says on 11th August 2020 Standard published and distributed a "belligerent, bellicose and malicious publication against our client."
Now Standard lawyers will have to battle it out with Dr Ken Nyaundi in court.