An article published by K24 online claiming that Deputy Inspector General of Police Edward Mbugua had snatched the wife of his junior was misleading. According to the 3rd November 2021 report, which was shared on Facebook, Wycliffe Ombede received a phone call from a man who identified himself as his boss, Edward Mbugua, and instructed him to stay away from his wife or face unspecified consequences.
K24 online had reported that the police officer, who had been charged with threatening to k¡ll his ex-wife and her current husband, had said the caller threatened him  if he did not stop calling the woman.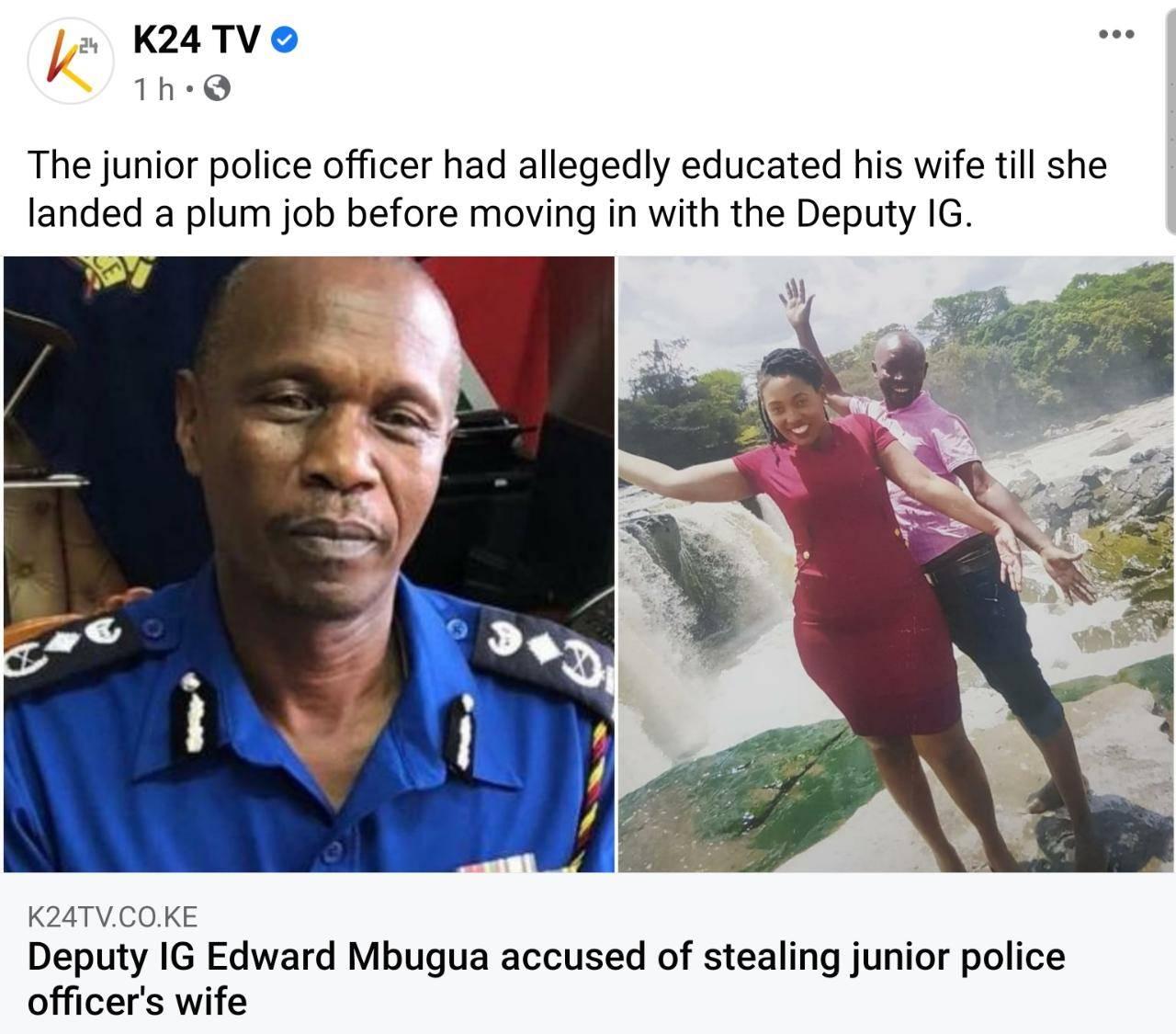 "This man who took my wife called me and introduced himself as my boss then further revealed that he is the Deputy Inspector General of Police. I didn't believe it because I did not expect someone of Mbugua's calibre to threaten his junior as he did," the police officer said in the story which was pulled down from K24 website but had been republished by a number of platforms.
A fact-check revealed that the article was fake as it mixed up information and names. The National Police Service, where Edward Mbugua works as Deputy IG, denied the reports through its Twitter handle, terming the story as malicious and distasteful. 
"The National Police Service has taken note of some distasteful, malicious and unprofessional reporting appearing online and attributed to some media houses linking a senior police officer to some love triangle involving a junior officer and his wife," it said in a statement released through social media.
"The said reporting fails to name the officer and wife involved, but goes ahead to name the senior officer, and more so, without seeking out his comment as expected. Kenyans are urged to ignore the said sensational online media reporting. We also urge media to exercise professionalism in reporting that has the potential of character a*sássination."
Mr Mbugua also came out to set the record straight, saying the National Police Service was aware of a case where an officer by the name John Mbugua is now married to the woman who was previously dating Wycliffe Ombede.
See Also >> Nursing Council Not Recruiting Management Trainees
The woman in question met with the officer named John Mbugua, who is attached to the Kenya Revenue Authority (KRA), with whom she is living as a wife, the Deputy IG revealed.
VERDICT: The article by K24 online that the Deputy Inspector General of Police has taken the wife of a junior police officer is misleading as the facts show the author mixed up issues and names.
 [This story was produced by Business Today in partnership with Code for Africa's iLAB data journalism programme, with support from Deutsche Welle Akademie ]