As the battle for the airwaves in Kenya intensifies, all eyes will be on Milele FM, which is emerging as the BBC of Radio in the country after snatching some of the most talented hosts on offer from its rivals.
They include Alex Mwakideu (Radio Maisha), Joyce Gituro, Francis Luchivya, Jacky Nyaminde aka Wilbroda (all from Citizen Radio) and  Felix Odiwuor aka Jalang'o (Hot 96).
The station has also retained Rhumba maestro Titi Nagwala, who was initially said to be on his way out.
Milele FM relaunched on Monday morning as Gituro, the new Head of Radio, promised servings that would cater for all audiences.
"We are promising a unique brand to cater for the highest percentage of its audiences, most brands only cover a small per cent but now listeners will get what they deserve to hear all the time," she assured.
The Mediamax Network Ltd-owned station has retained its slogan, Home of African Hits, but with an additional catchphrase, 'Mbele Milele."
A hashtag 'ItambeMilele' has also been crafted with the aim of further pushing the brand on social media.
Media watchers will now be looking to see if the new "Dream Team" will succeed in ruling the industry, which has for long been dominated by Citizen Radio. Milele has been variously been ranked at position six after Citizen Radio, Radio Maisha, Radio Jambo, Kiss FM and Classic 105.
Following the relaunch, Mwakideu and Jalang'o, who previously worked together at Radio Maisha to great success, have reunited to host  the Milele breakfast show from 6am to 10am.
Gituro has invested her faith in the two to anchor the station's surge to the top of the ratings table given the massive audience following and unique characteristics.
Related: FIVE RADIO PROGRAMMES TO RULE THE AIRWAVES IN 2018
"The two are powerful, youthful, interesting and have a high rating in radio. They are household names with a great following and appeal to the masses," she said.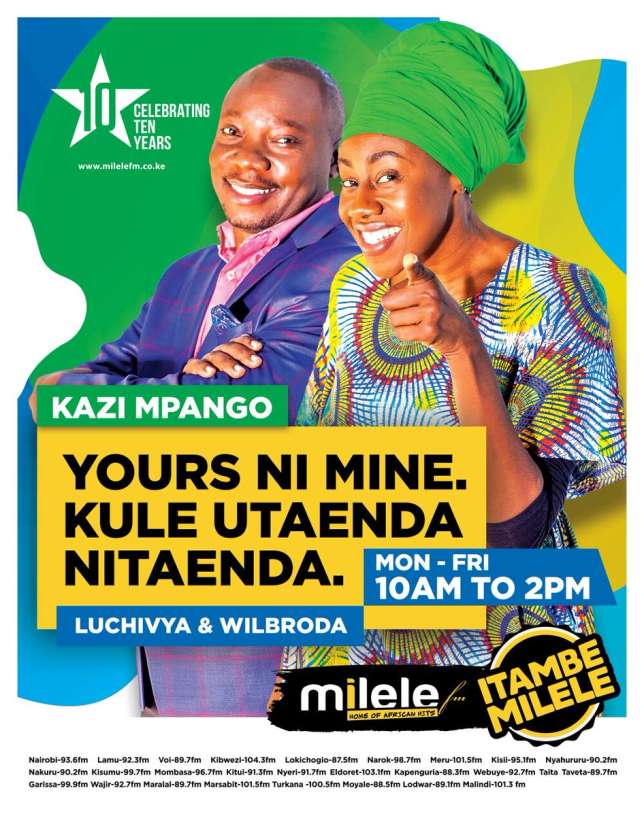 Equally popular Luchivya and Wilbroda will also hope to draw their fanatic following at Citizen Radio after being retained as co-hosts of the Mid Morning show running from 10am to 2pm.
After a  reggae show by Ali Baba from 2pm to 4pm, Milele has introduced the Drive Show, which will be hosted by Yusuf Zema aka Kaka Zema and Diana Tangut aka Dee, in the hope of retaining evening audiences.
READ: MACHAKOS GOVERNOR ISSUES TOUGH NEW ROAD RULES
Other shows are Rhumba Oxygen to be hosted by Nagwalla followed by Midnight Patrol with Jakamega, Chozi and DJ Slim from midnight to 4am.
The million-dollar question remains: Will the new 'Dream Team' deliver the goods?