Market watchers are scratching their heads after the share price of food processor, Kenya Orchards Ltd, plunged by Ksh68 in two days of trading this week.
Kenya Orchards is one of the most dormant counters at the Nairobi Securities Exchange (NSE) hence the reason why it has raised interest following recent activity that saw 500 shares moved at Ksh 82 per share on Monday before another 1,000 shares were traded on Tuesday at Ksh14 and going quiet again.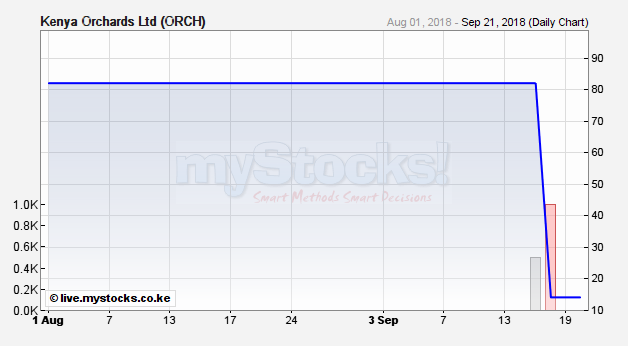 The company reported a 17.09% drop in net profit for the half year ending June 30, 2018 to Ksh 999,622 from Ksh 1.2 million recorded during the same period in 2017.
The reduced earnings were attributed to administrative expenses, which rose by 829.53% to Ksh 1.7 million thus eating into its revenue, which increased by 6.15% to Ksh 34.2 million from Ksh 32.2 million recorded in half-year period of 2017.
During the period under review, earnings per share dropped by 0.01% to Ksh 0.08 per share from Ksh 0.09.
The firm, which was founded in 1959, has not paid dividends to ordinary shareholders for more that a decade. Only preference shareholders have been receiving annual dividends. Last year, the company paid them Ksh 55,000 same as 2016. 
The Nakuru-based company, which is listed in the Alternative Investment Market Segment, is primarily involved in the distribution of processed fruits, vegetables and other food products.
In 2014, it ventured into the production of spices and seasonings after setting up a manufacturing plant with a capacity to churn out 12 tonnes of spices per day.
Critics have previously share the company's main shareholders need to loosen their tight holding if it is to fully exploit its potential to boost its finances.
Last year, Kenya Orchards reappointed Vipul Patel as its CEO. At the time, he held a 14.89% stake or 1.9 million shares in the company. He is also a director at Njoro Canning Factory, a family-owned company, which in 2003 acquired a 50% stake in Kenya Orchards.
editor [at] businesstoday.co.ke