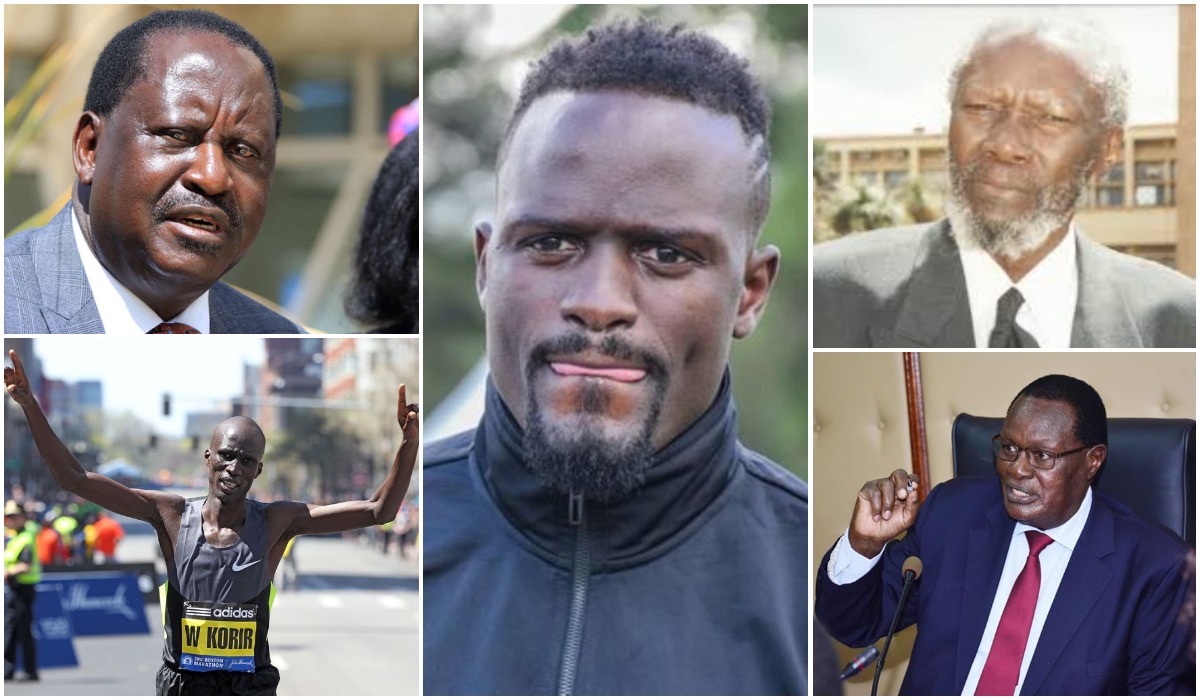 Former Harambee Stars midfielder McDonald Mariga's entry into the Kibra by-election race has elicited a ruckus that has never been witnessed in Kenya's recent political history.
While much of the drama has surrounded his eligibility to vie following claims he was not a registered voter, which have since been overruled by the Independent Electoral and Boundaries Commission (IEBC) Disputes Resolution Tribunal, there have also been assertions that he is not fit to fill the shoes left by the late Ken Okoth, who succumbed to c****r in July.
Part of the opposition has been fueled by those who feel Mariga is seeking to ride on his celebrity status as a former successful footballer to launch his political career.
Ida Odinga, the influential wife of ODM leader Raila Odinga, has been the most emphatic telling Mariga to stick to football and give politics, long considered a dirty game, a wide berth.
"Have you heard of the name Dennis Oliech? What has he excelled in? Football isn't it? Think of Mariga, I cannot use that as a good example because when he changed the profession you see how he failed," Ida said.
"If he would have stuck to football he would do much much better," she added during the opening of an educational block at Wandiege Primary School in Kisumu East in reference to IEBC Returning Officer's earlier decision not to clear Mariga, the first Kenyan footballer to play in the UEFA Champions League for Inter Milan on March 16, 2010.
However, if he overcomes the mounting hurdles placed on his path and finally makes it to the National Assembly, Mariga will not be the first footballer or sports personality for that matter to have made it in the rumble and tumble of politics. Incidentally, Oliech had also initially been mentioned as a likely candidate in the Kibra contest before he turned down the overtures.
Past footballers who have successfully ventured into elective politics include former Cabinet minister Chris Obure and former Foreign Affairs assistant minister the late Joab Omino.
Obure, now the Chief Administrative Secretary in the ministry of Roads, Public Works, Infrastructure and Housing, was a lethal striker both for Gor Mahia FC and the national team Harambee Stars in the 1960s. He used to wear jersey number 10 or 11 for both club and national duty. His role as a winger was to supply balls for the central strikers and others to score.
In 1965, he formed the Bata B*****s Football Club, which went on to contest in the national league. Among its products was Joram Roy, a diminutive but lethal right back, who also played for the national team.
Later, he teamed up with Obure and veteran politician Kenneth Matiba, a former Cabinet minister and 1992 presidential candidate, to form Kenya Football League. He was named its first secretary with Matiba as chairman. A year later in 1974, it was rebranded the Kenya Football Federation (FKF).
However, in 1979, member clubs opted to elect another group but which went on to fail resulting in his appointment by the then minister in charge of sports in 1981 to chair a caretaker committee.
"We managed to achieve very high standards. We won the East African championship with Marshal Mulwa as the coach," says Obure.
Some of the football stars Kenya has produced
Among players who played for the national team and whom he says were some of the best the country has ever produced were Mohammed Abbas, Josephat Mulila, Jacaranda Ouma, Elly Odero, Bobby Ogolla, Otieno Kasanga, JJ Masiga, Ambrose Ayoyi, Wilberforce Mulamba, Hussein Kheri, Sammy Tabu and Jared Ingutia.
Raila , an ardent Arsenal and Gor Mahia fan best known for his football-laced political commentaries, also briefly played for Luo Union (now Gor Mahia) as a midfielder in the 1960s.
Matiba is the brains behind the early successes of Kenya Breweries FC
Omino, who was popularly known as "Omino Boli", played for both Kenya and Uganda national teams. while a student at Makerere University.
In the 1980s, he served as the patron of Gor Mahia, a position currently held by Raila, which is believed to have boosted his chances in winning the Kisumu Town MP seat.
Former Planning assistant minister Peter Kenneth, who once served as KFF chairman, Dan Shikanda ( AFC Leopards, Gor Mahia and Harambee Stars), Alfred Khangati (Volleyball), D**k Wathika (Boxing), Reuben Ndolo (Boxing), GG Kariuki (Karate), Wesley Korir (Athletics) and Elijah Langat (Athletics) are some of the other sports personalities who plunged into politics albeit with mixed outcomes.
Former Nairobi Mayor Isaac Lugonzo, former Butere MP Martin Shikuku, former assistant minister Mathew Adams Karauri and Webuye East MP Alfred Sambu also had stints in football administration.
Lugonzo, a former referee who officiated at the 1962 Africa Cup of Nations, is credited with introducing the country's nationwide league.
Internationally, Liberia MP George Weah and Hungarian Prime Minister Viktor Orban are among footballers who ventured into politics rather than coaching or punditry,