The Kenya Tea Development Agency (KTDA's) new board of directors held its first meeting on Monday, June 21, and sent long-serving Managing Director Lerionka Tiampati and five other officials on compulsory leave.
The other officials are managing director Alfred Njagi, company secretary John Omanga,  finance and strategy director Benson Ngari and general manager ICT, David Mbugua.
New Board chair David Ichocho disclosed that they resolved to send them on a three-month compulsory leave to pave way for investigations into their conduct. The move comes against the backdrop of a tussle which saw the officials oppose new regulations on tea contained in the Tea Bill fronted by the Agriculture Ministry, which was passed in December 2020 and a state-backed investigation into the agency which was quashed by the courts in April 2021.
"… the board of directors has made the following resolution, that the following senior managers will immediately proceed on compulsory leave to allow for the necessary investigations and determination of culpability for any malpractices and possible abuse of office," Ichocho stated.
The investigations are expected to include a forensic audit of the operational and financial system, and reviews of procurement contracts to ascertain whether KTDA shareholders received value for money.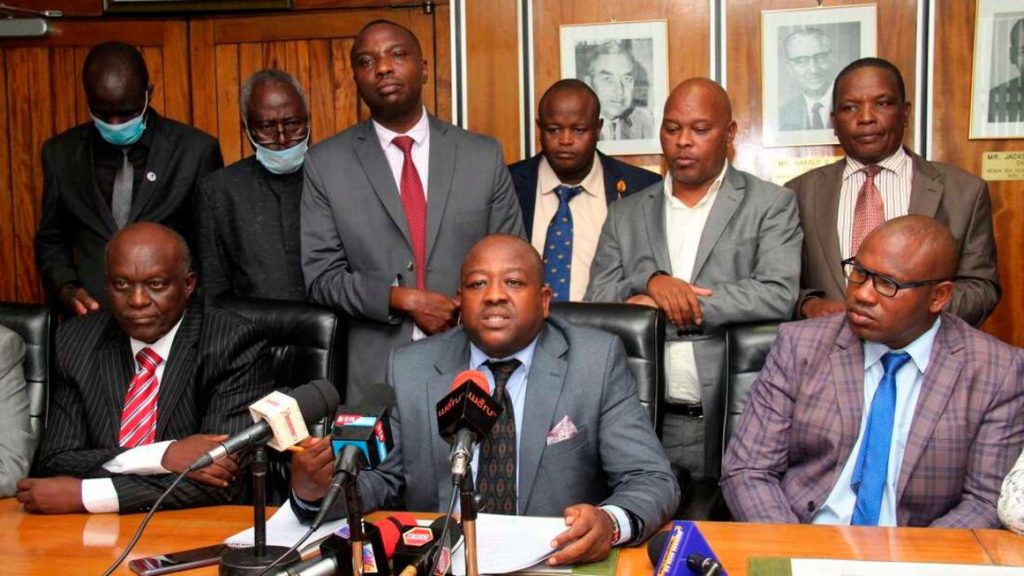 The new KTDA board, which was inaugurated earlier in June by Agriculture Cabinet Secretary Peter Munya, held its first meeting at the agency's Nairobi headquarters under heavy police presence amid fears that the meeting could have been disrupted.
The out-going board, however, issued its own press statement soon after Ichocho communicated the board's decision to send the officials home. Further amplifying the legal battles between the opposing factions, they maintained that the board lacked authority to effect any decisions.
"The said group has purported to distribute amongst themselves positions at KTDA Holdings. We wish to notify shareholders and the general public that the meeting was not convened by KTDA Holdings PLC.
"The public are advised to ignore any pronouncements and declarations by this group of people," their statement read in part.
One of the officials sent home, MD Alfred Njagi, had in May revealed plans to list on the Nairobi Securities Exchange (NSE) even as the state maintained its onslaught on the agency.
"Listing will enable KTDA to access external funds from the market, cutting dependency on our own internal finances," he stated at the time.