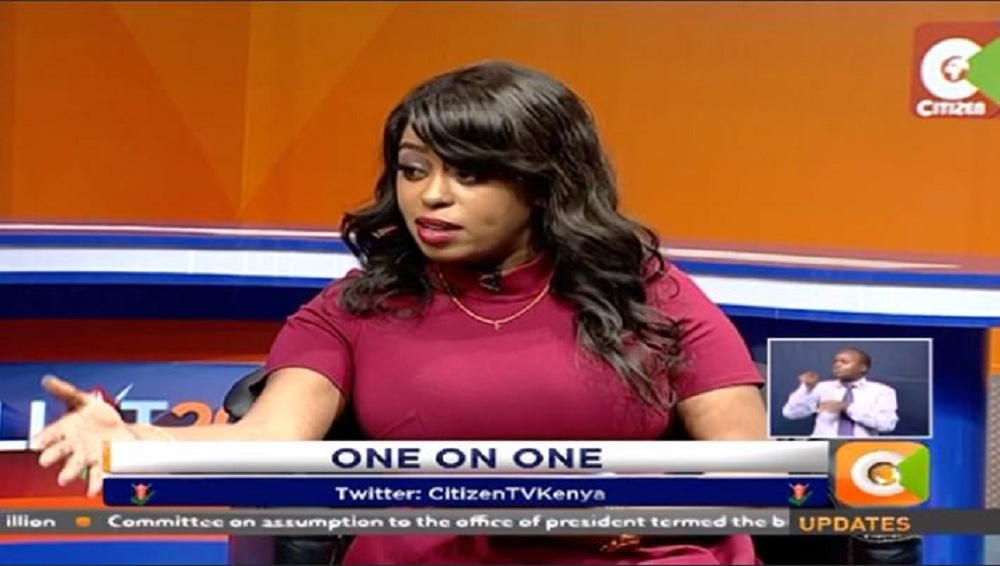 Citizen TV news anchor and host Lillian Muli has come under fire from netizens after she asked a rape victim unsettling questions. Ms Muli was interviewing the rape victim, Irene Karimi, who was  abused when 10 thieves broke into her house at night, beat her up, robbed and raped her.
Ms Muli asked Irene whether her manner of dressing or utterances would have motivated them to commit the act, something many viewers found insensitive. The interview was initially meant to address the problem of victim shaming, which rape and defilement survivors often suffer, but the objective went off track, thanks to the host's line of questioning. The issue has caused a firestorm on social media with many criticising Ms Muli for her insensitivity.
The TV host equally came under criticism when she was interviewing  last year's top Kenya Certificate of Primary Education (KCPE) candidate Goldalyn Kakuya, an albino and minor, and her parents when she prodded to know if she had a boyfriend. Most netizens called the question unethical apparently after concluding it was directed at her given the discomfort that ensued.
She, however, hit back at her trollers over the KCPE star, saying: "I asked her mother about phones and then asked her if she's had any issues raising a teenager such as boyfriend drama. Did I at any point direct a boyfriend question to her! Unless you grew up in some hole in a pit latrine most 14 years olds have crushes at this age it's part of growing up! But then again call me that name you posted to my face and let's square it out man to woman since you choose to hide behind your private account."
Here are some of the reactions to the latest saga on rape:
Irene: 10 thieves broke into my house at night beat, robbed & RAPED me

Lilian Muli: could you've said/done something? Were you dressed a certain way?…initially their intention was to steal, do you recall exactly how this happened & who started it?

So unfortunate & disgusting! https://t.co/g8s1StiYXp

— Wambui (@Waambui) April 8, 2018
For those asking, here is the Lilian Muli interviewing with a sexual assault/rape victim. pic.twitter.com/gDyR0Uxeiz

— Food Ninja (@shobanes) April 8, 2018
Did Lilian Muli just ask a victim of sexual violence what she did to provoke her rapists? WTF! @citizentvkenya ???

— Evarita Kamau (@Evarita) April 7, 2018
Lilian Muli aende 10 over 10 Joy Muthengi akuje prime news.
There she can go ask of artists do have sex with video vixens before shooting a video.

— Mr. Nyaribari (@ReubenNyaribari) April 8, 2018
Lilian Muli: did the men wear condoms when raping you? Like WTF!!! https://t.co/H3YZEIvizT

— The Muthoka® (@MuthokaTito) April 8, 2018
Victim "10 thieves broke into my house and raped me."

Lilian Muli "But that's not rape rape? Like what did you do REALLY do to cause all that? Why you? What could you have done to stop it?"

Turns to specialist, "I mean define rape. What is it really?"

Yhu.

— Muthoni Maingi (@NonieMG) April 8, 2018
Lilian Muli asked a question that we feel, was insensitive. Can we cut her some slack and address the real issue of why someone would someone force a human being into sex?

— Grace Njeri (@gacheri_Njeri) April 8, 2018
I haven't watched the Lilian Muli interview, but it seems she stepped over the line. Sasa yuko Jupiter or somewhere near Pluto. Funny thing is most Kenyan feminists tweeted more about the Winnie Mandela thing than they did about the Lilian-rape victim interview.

— The Truth by NK (@nahashon87) April 8, 2018
I pity our young people and the kind of celebs they are growing looking up to as role models! First was Lilian Muli with the silliest of questions you can ask a rape survivor and then now the shirtless shameless Timmy… https://t.co/S1pygSe3cN

— Ken P. Munyua (@kenpken) April 9, 2018
However, Karimi has come out to defend the news anchor, saying she never felt harassed in any way.
Hi @lillian_muli thanks for hosting me in the citizen news yesternight. Thanks for keeping it easy for me to express myself. I never felt harassed in any way. You are the best.

— Irene Karimi_Favour (@FavourKarimi) April 8, 2018