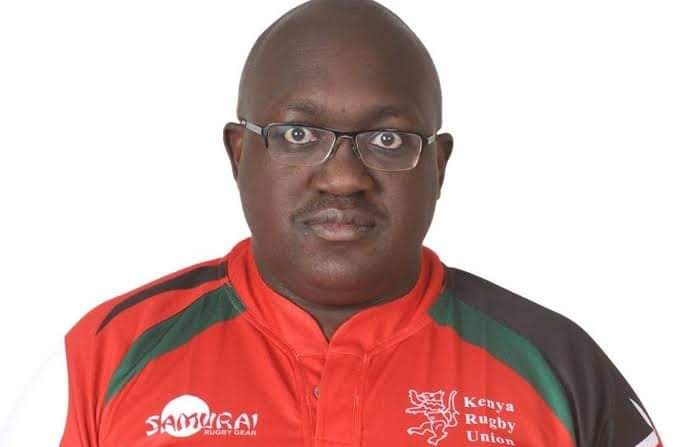 Geoffrey Oduor Gangla was on Wednesday evening elected as the new Kenya Rugby Union (KRU) chairman after garnering a total of 33 votes. Gangla managed to defeat his main rival, Alexander 'Sasha' Mutai, who got 20 votes. Asiko Owiro, the third contestant managed 2 votes.
Taking over from Richard Omwela, Gangla has a huge task ahead of him in managing the sport in the country in order to yield results internationally as far as the Shujaa team is concerned.  During his campaign for the seat, Gangla pledged to develop rugby in Kenya from the grassroots level to help improve the National team's performance.
The immediate former KRU Secretary-general has vast experience in club management having worked as the chairman of Resolution Impala Saracens for four years. While serving as Chairman at Impala, Oduor saw the club return to the higher echelons of the game, significantly runners up position in the 2015/16 Kenya Cup. Gangla said that with his understanding of how clubs, he will make sure he gets the best pit of clubs as they are the sources for National Team players.
Gangla's participation in Kenyan rugby dates back to 1994 when he was playing for Mang'u High School. Before Mang'u, Gangla is said to have started playing Rugby at Milimani Primary School but not competitively. The Omwela successor has transitioned from age rugby since his days at Mang'u to when he played for Mean Machine and Blak Blad. Gangla also enjoyed Enterprise Cup and Kenya Cup Success in 2000 and 2001 respectively when he played for Impala.
At Impala, Gangla's tenure saw the introduction of women's rugby at the club in 2014. The Impala Women's rugby team won the Women's league last year. The club built the ladies team from the grassroots level which built to their recent success.
During his Campaign for the seat, Gangla promised to help develop the Women's game by mainstreaming it. Last year, as the union was revising the Women's regulation, they agreed to remove specific references to Women's regulation as they strive to have one game. He has promised to intensify material and moral support of the Women's club games.
In the final days of Omwela's tenure, the National Shujaa team was performing poorly due to a boycott of senior squad players from matches and training. The players were demanding that their salaries be increased as they had been reduced from what they were getting in the previous season. In KRU's defence, Omwela said the union had no money to facilitate the players' demands due to inadequate.
Gangla had said that he has tangible experience in developing international partnership having led in the development of the partnership between Impala with a UK Premiership and Europe Champion, Saracens (UK). An international partnership can be beneficial in getting the National team coaching from abroad as well as get sponsors for the team.
During his tenure at Impala, the club ran a robust age grade programme that got international support from Standard Chartered. This climaxed in an Impala Rugby Under-14 tour to the UK in partnership with Touraid.
Read: Hustlers join millionaires club as Safaricom promo enters fourth week
Outside rugby, Gangla is the current CEO of Genghis Capital, a Kenyan investment bank, with over 20 years experience in the Finance Industry. Perhaps his experience in Financing can be helpful to the union which has been recently hit a financial crisis that led to delay of player contracts. The 42-year-old is also married and has two sons.