Two Kenyan-based seed companies feature among the top 10 in this year's Access to Seeds Index which ranks Eastern and Southern African companies based on their efforts to improve access to quality seeds of improved varieties to smallholder farmers.
East African Seed, a Kenyan company and Seed Co, a regional seed manufacturer with operations across Eastern Africa rank at position one and two garnering scores of 2.87 and 2.85 respectively for their concerted efforts in raising smallholder farmers' productivity.
Seed Co, originally from Zimbabwe but now headquartered in South Africa ranks nine places higher than in the 2016 index, is the African seed company with the most extensive breeding, production and sales network, and the widest geographic reach in agronomic training.
East African Seed features two places higher than in the 2016 ranking owing to its continuing robust access to seeds strategies and broad portfolio availability, clear improvements in its smallholder-focused research program and a growing dedicated pool of extension staff providing tailored training.
The Kenya Seed Company ranks at position 14 out of the 22 listed companies and is ranked favourably due to its research and development and marketing and sales capacity. The 2019 Index gives more weight to the extent of company activities in the region
Kenya Highland Seed features at position 16 with marketing and sales, capacity building and governance and strategy listed as its strengths.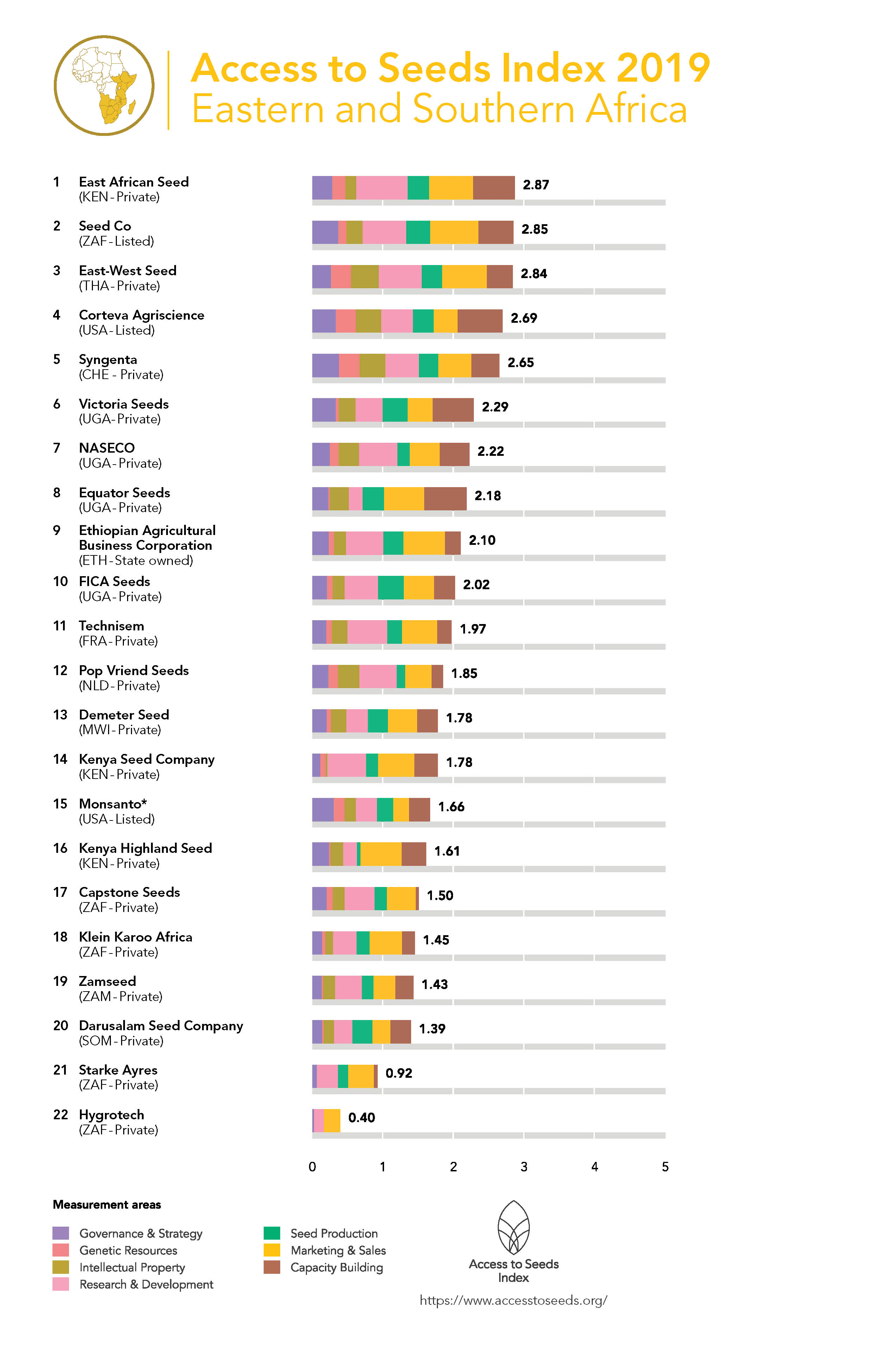 Read: New York Times revokes appointment of journalist behind controversial terror attack report
"Two African seed companies at the top of the ranking is no surprise, given their deeper understanding of the region and the challenges smallholder farmers face. It also shows that these relatively small seed companies are ahead of larger multinational seed companies in integrating smallholder farmers into their business models," said Sanne Helderman, Senior Research Lead at the Access to Seeds Index during the release of the results.
Ugandan companies Victoria Seeds, NASECO (position 7), Equator Seeds (position 8) and FICA Seeds (position 10) also make it into the top ten, showcasing smallholder-focused operations in their home country.
See also: Sanlam Kenya sinks into Ksh1.98 billion loss