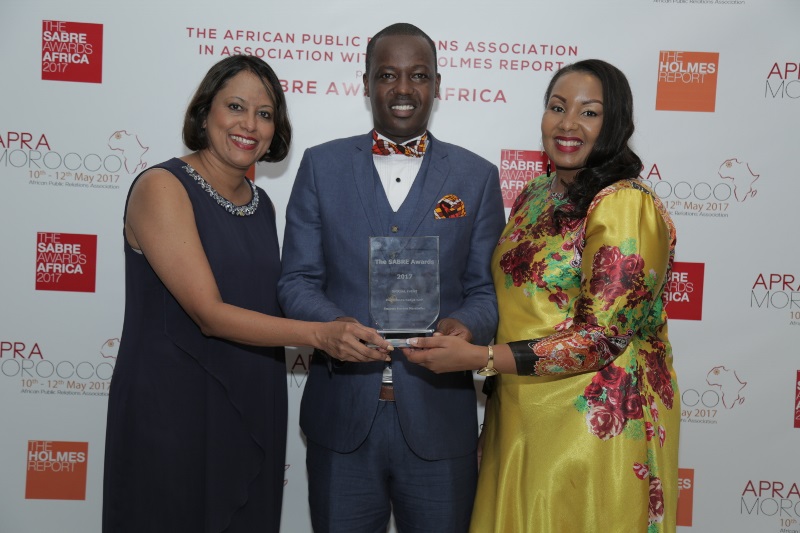 Kenya Public Relations agencies won four continental honours the inaugural African SABRE Awards held last month, cementing their leadership among corporate peers in Africa. The award ceremony was held in conjunction with the Holmes Report, as part of the African Public Relations Association's (APRA) annual conference in Morocco on 11th May 2017.
This year's theme was "Competitive Africa: Effective Positioning Through Integrated Communication," which examined six intervention areas. Among them were economic integration, infrastructure development, tourism, good governance, health and e*******n.
Engage Burson-Marsteller Kenya led the pack locally with two awards while Levanter and Ogilvy Africa scooped one award each.
The SABRE Awards, akin to the Oscars of the PR world, are sponsored by leading industry trade publication The Holmes Report. The Awards have a 25-year heritage, with separate competitions in North America, EMEA, the Asia-Pacific, Latin America, South Asia, and now Africa.
The winners from these regional competitions are eligible for the Global SABRE Awards, which recognise the best PR campaigns from more than 5,000 entries around the world.
See Also: Ogilvy Africa picks insider as CEO
Below are the categories Kenyans received awards in:
Special Event: Gold Winner – Lion Guard Return of the Roar, MultiChoice Kenya with Engage Burson-Marsteller (Kenya).
Eastern Africa: Gold Winner – My #ColgateSmilefie campaign, Colgate-Palmolive with Burson-Marsteller Africa (Kenya and South Africa).
Non Profit Campaign: Gold Winner – Help, Hope, Life campaign, Faraja C****r Support Trust with Levanter Africa
Marketing to Consumers: Gold Winner – Coke Studio Africa campaign, Coca-Cola with Ogilvy Africa
Certificates of Excellence
Social Media Campaign of the Year – Kenya R*******s Society
Special Event of the Year – Kenya R*******s Society
Marketing to Consumer – New Product, Kenya R*******s Society
"We are honoured to have won in two categories of continental awards which demonstrates the capability of our local team in-country in producing top international quality work for our clients like MultiChoice Kenya and Colgate-Palmolive," said Desiree Gomes, Managing Partner at Engage Burson-Marsteller Kenya, while receiving her Awards.
Next: Government Advertising Agency gets more funding but….
MultiChoice Kenya, Corporate Affairs Manager Philip Wahome thanked APRA and Holmes Report for working to raise the standards of PR in the continent and advocated stronger agency-client relationships to improve the quality of work.
"We thank all teams in-house and agency that were involved in creating award-winning work that has been recognised at an African level. Multichoice Kenya remains committed to enriching the lives of our consumers by making great entertainment accessible and delivering it innovatively," said  Mr Wahome.
Public Relations Society Chair and current APRA secretary-general, Jane Gitau said Kenya Public Relations practice is world-class.
[crp]