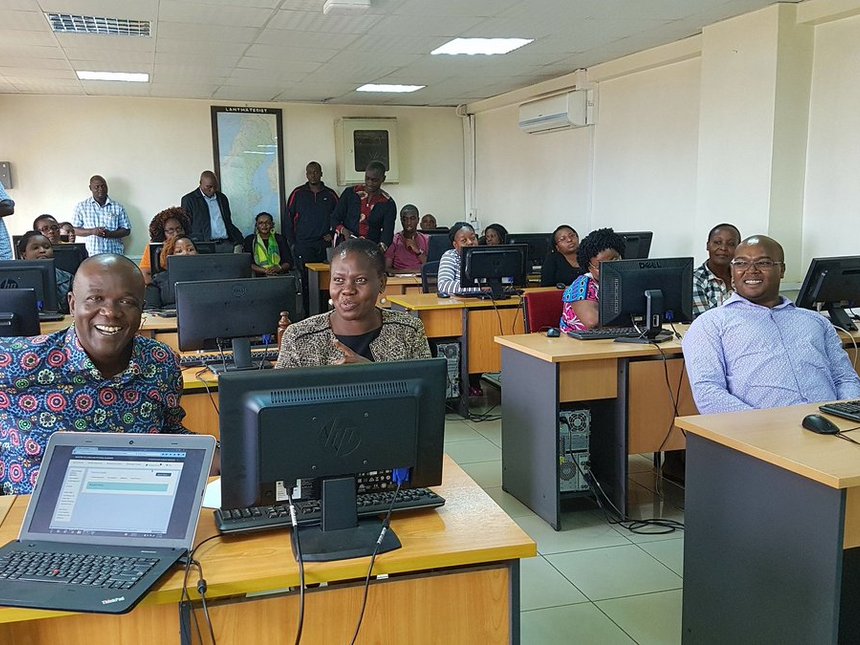 Kenya has risen 19 places to stand at position 61 in the latest World Bank Ease of Doing Business rankings with a score of 70.31 released on Wednesday. Last year, it was placed at position 80.
The report says Kenya was among economies with the most notable improvement in Doing Business 2019. The others are Afghanistan, Djibouti, China, Azerbaijan, India, Togo,  Côte d'Ivoire, Turkey and Rwanda.
Overall, it shows that between June 2, 2017, and May 1 this year, 128 governments introduced a record 314 reforms benefitting small and medium business and entrepreneurs, enabling job creation, and stimulating private investment.
These reforms are tracked – and inspired – by the World Bank Group's Doing Business Index ranking 190 countries on the ease of doing business within their borders.
Here is a highlight of the reforms made by Kenya improving its standing:
DB2019
Registering Property: Kenya made registering property easier by introducing an online system to clear land rent rates.
Getting Credit: Kenya strengthened access to credit by introducing a new Secured Transactions Law creating a unified secured transactions legal framework, and establishing a new unified and notice-based collateral registry.
Protecting Minority Investors: Kenya strengthened minority investor protections by increasing disclosure requirements, regulating the approval of transactions with interested parties and increasing available remedies if said transactions are prejudicial, increasing shareholders' rights and role in major corporate decisions and requiring greater corporate transparency.
Paying Taxes: Kenya made paying taxes easier by merging all permits into a single unified business permit and by simplifying the value added tax schedule on its iTax platform.
Resolving Insolvency: Kenya made resolving insolvency easier by facilitating the continuation of the debtor's business during insolvency proceedings, providing for equal treatment of creditors in reorganization proceedings and granting creditors greater participation in the insolvency proceedings.
DB2018
Starting a Business: Kenya made starting a business easier by merging procedures required to start-up and formally operate a business.
Dealing with Construction Permits: Kenya made dealing with construction permits less expensive by eliminating fees for clearances from the National Environment Management Authority (NEMA) and the National Construction Authority.
Getting Electricity: Kenya improved the reliability of electricity by investing in its distribution lines and transformers and by setting up a specialized squad to restore power when outages occur.
Getting Credit: Kenya improved access to credit information by starting to distribute data from two utility companies.
Paying Taxes: Kenya made paying taxes easier by implementing an online platform, iTax, for filing and paying corporate income tax and the standards levy.
Trading across Borders: Kenya reduced the time for import documentary compliance by utilising its single window system, which allows for electronic submission of customs entries.
"Governments have the enormous task of fostering an environment where entrepreneurs and small and medium enterprises can thrive," said World Bank Group President Jim Yong Kim. "Sound and efficient business regulations are critical for entrepreneurship and a thriving private sector. Without them, we have no chance to end extreme poverty and boost shared prosperity around the world."
"This year's results clearly demonstrate government commitment in many economies, large and small, to nurture entrepreneurship and private enterprise," said Rita Ramalho, Senior Manager of the World Bank's Global Indicators Group, which produces the report.
"In addition, there is a wide range of countries reforming this year – it's more universal. No one questions that these things are important any more, such as the need for a simple process to start a business."
READ: DENNIS ITUMBI PROTESTS AS COURT DELAYS JACQUE MARIBE RELEASE
In the last two or three years, "all the large emerging markets – such as China, India, Nigeria, South Africa, Indonesia, Russia – have taken on this agenda," said Sylvia Solf, head of the World Bank Group's Reform Advisory Unit, which advises governments on ways to improve the business environment.  "The fact that they are doing this is groundbreaking."