Kenya Methodist University has put on sale KeMU Hub, the five-storied building housing its Nairobi campus along Koinange Street, in yet another sign that the university's financial crisis is worsening. It is not yet clear whether students will be transferred to its main campus in Meru.
Also to be sold is a 0.875 acre piece of land with a residential building in Nakuru town, according to an advertisement seeking bidders to but the property.
The move comes days after it emerged the institution of higher learning is yet to repay millions of shillings owed to various creditors to reclaim its assets worth Ksh 42 million seized by auctioneers, among them vehicles.
University Board of Trustees' chairman Silas Muriuki has pledged to pay the debts by the end of the week.
Speaking in Isiolo, Muriuki blamed competition for the woes facing KeMU, arguing that the establishment of numerous university campuses around Meru had brought about unhealthy competition, "resulting in pedestrian propaganda against the institution and its leadership".
Several vehicles were taken after more than 60 workers, who were sacked, moved to court. A bus and lorry were also attached.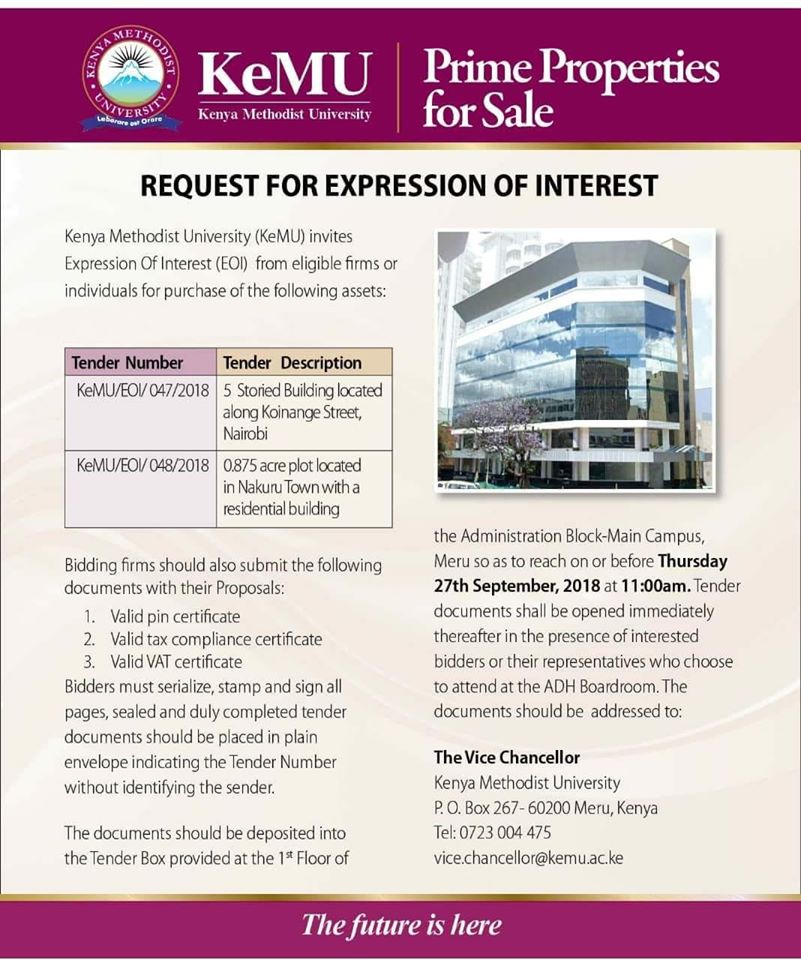 He noted that former VCs over-paid staff while peer universities were not paying as much allowances for board of trustees or management, adding that the wage bill was very high than the university could afford and when there was intervention, those who were enjoying them were very unhappy.
Last year, the university, which was chartered in 2006, closed three of its campuses in Kisii, Nyeri and Nakuru and sacked over 150 employees.
In a termination letter sent to affected staff, the institution attributed the move to sack them to dynamics affecting the education sector in the entire Kenyan economy, which it said necessitated a "restructuring process to enhance its effectiveness and competitiveness."
The institution has other campuses in Mombasa as well as a presence in Meru town, Maua and Marimanti.
In 2015, KeMU, which is owned by the Methodist Church, slashed staff allowances by up to 30% due to what management cited as financial difficulties, coming just a month after firing former vice-chancellor Alfred Mutema.
READ: RASNA WARAH GOES BACK ON PLAN TO COMMIT SUICIDE
A former vice-chancellor, Mutuma Mugambi, sued the university in 2012 for Ksh 161 million citing failure to follow due process when his contract was terminated five years earlier. He was sacked alongside five senior managers in a shake-up.