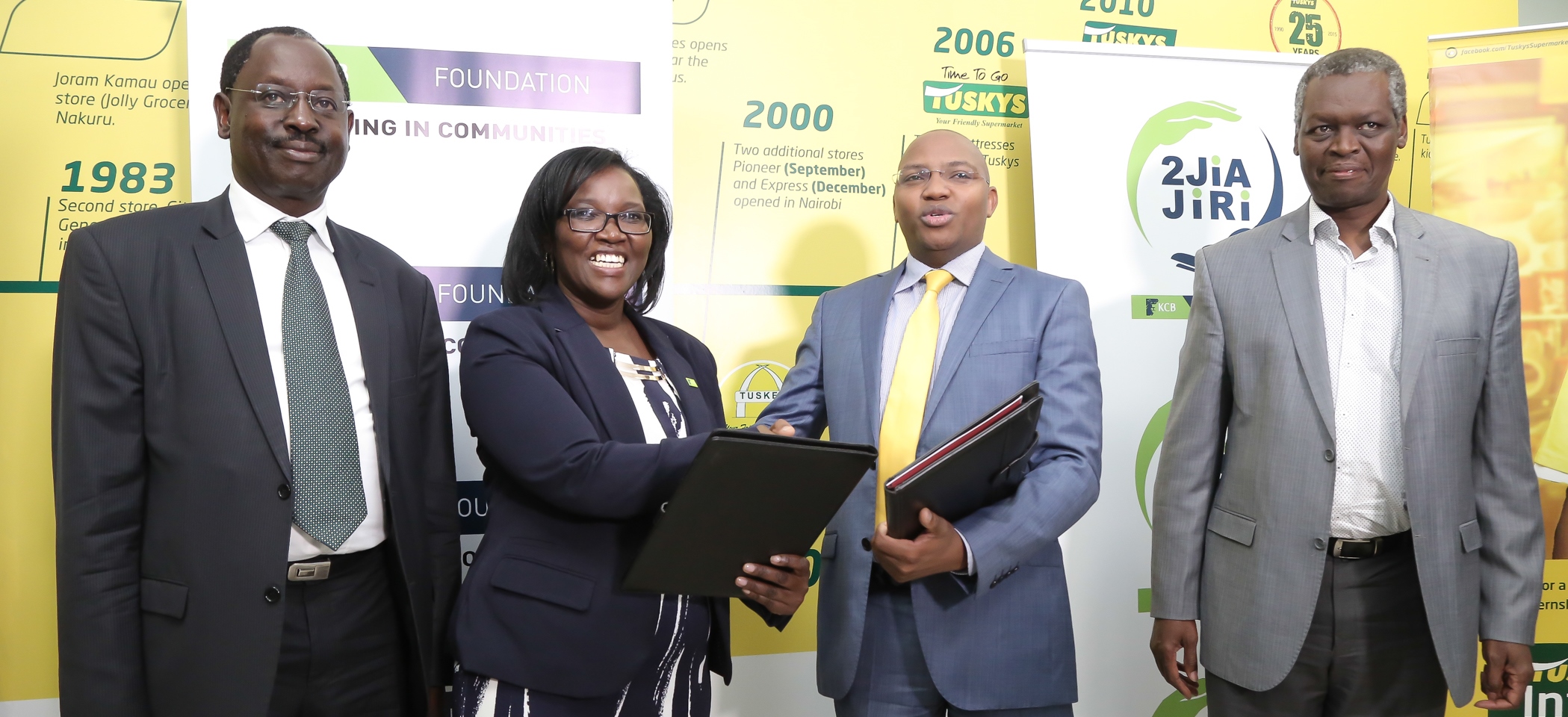 The KCB Foundation and Tuskys Supermarket have entered into a strategic partnership to support contract farming for thousands of youths in agribusiness and offer at least 1,600 internship opportunities.
The partnership targets to benefit 12,000 youths across 22 counties in the identified value chains in agribusiness through provision of asset financing and working capital to enable the young farmers meet the needs of demand and supply.
Tuskys Supermarkets has committed to buy all the produce from the venture.  "This project is meant to support youth entrepreneurship. We believe that the youth hold the greatest sway in the pace and trajectory that the East African economy will take into the future. We also acknowledge the great contribution agriculture makes to the national GDP and we are committed to supporting the sector," said Jane Mwangi, the KCB Foundation director.




To further enhance this partnership, KCB Foundation through its 2jiajiri programme shall provide field-based competency training of youths in agriculture, construction, beauty & personal services, automobile services and domestic services. This partnership will see Tuskys, through its internship programme, consider KCB Foundation's 2Jiariri beneficiaries.
Mr Daniel Githua, the chief executive officer at  Tuskys Supermarket, said: "This partnership agreement between KCB Foundation and Tuskys will jointly pool resources, skills and experiences to advance youth skilling, self-employment and further hone entrepreneurship skills among the youth, while at the same time provide employment opportunities for the successful beneficiaries."
Tuskys launched the internship programme in October 2015, not only to create a pool of skilled staff for its over 50 outlets countrywide but also as a way of transforming societies that they operate in, hence tackle unemployment amongst youths. "We have noted a marked improvement in terms of productivity from youths who have gone through our internship program as opposed to those who have not," he said.
The programme targets the youth, who have limited opportunities, in marginalized areas or lack resources to seek out the training and job opportunities offered by the programme.