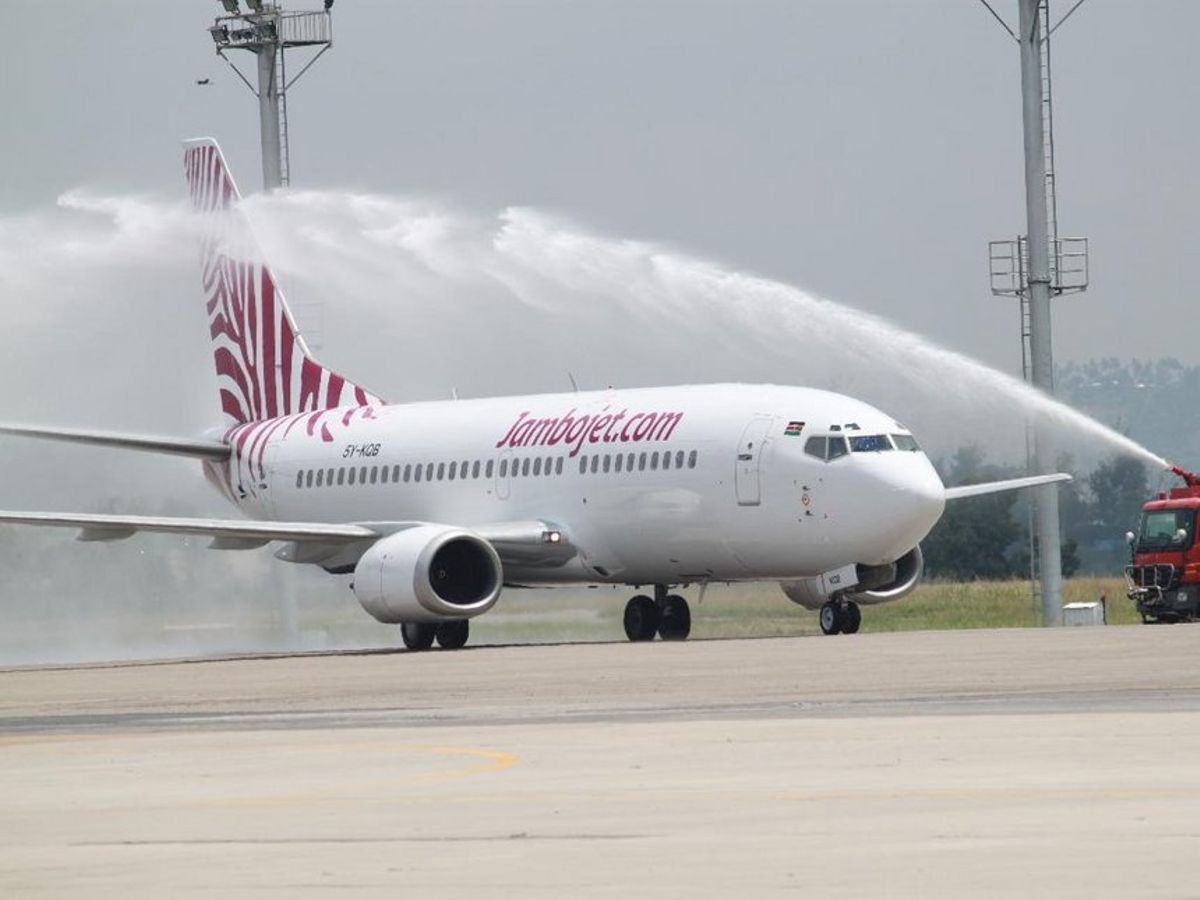 Budget carrier Jambojet on Tuesday announced that it is venturing into charter flights to boost its revenues after losing Ksh1.2 billion during the COVID-19 period.
Speaking during a virtual press conference, Jambojet Acting Managing Director Karanja Ndegwa said that the budget carrier needs to shore up its numbers considering that it is currently only operating flights within Kenya as different routes remain temporarily inoperable due to Coronavirus induced regulations.
Ndegwa revealed that under normal circumstances, the carrier generates Ksh300 million per month meaning that during the four months that flights were grounded, the company lost on the huge sums hence the need to recover lost ground.
"We are currently operating at 55% capacity but the number could grow because the market keeps on moving. 2020 has been a tough year for not just us but the entire aviation industry. We cant tell about 2021 but we are looking at charter flights because they will help us recover faster," Mr Ndegwa said during the virtual press conference.
The company is targeting anyone or any institution who might want to travel to a particular destination and pair them to others who might have similar plans.
The idea is to have customers request the flights on e-mail and then the carrier will do the cost analysis and logistics lowdown before getting back to the customer with a price.
"Each route has different costs. The moment you give us your destination, there are different factors to consider such as safety and whether it makes business sense," said Mr. Ndegwa adding that the carrier is looking at extending beyond its normal routes.
"We cannot deploy full capacity and fly empty. We will add capacity on the load factor. We wIll match demand to the capacity we have," he added.
The company is targeting five ad hoc frequencies per week during the initial stages of the new venture.
"Charter flights are non scheduled. We are targeting anyone and everyone willing to fly but based on past experience we would expect that the highest demand will come from humanitarian groups and Non-Governmental Organizations (NGOs)," said Jambojet Head of Sales and Marketing Titus Oboogi during the press conference.
The budget carrier is also not expecting to resume flights to Kigali and Entebbe this year due to restrictions imposed by regional governments to stem the spread of COVID-19 within their borders.
"There is an element of protectionism from different countries. We don't project it (resumption of flights to Kigali and Entebbe) to be this year, our estimation is the earliest that can happen is 2021 but it will depend on how the situation unfolds," said Mr Oboogi.