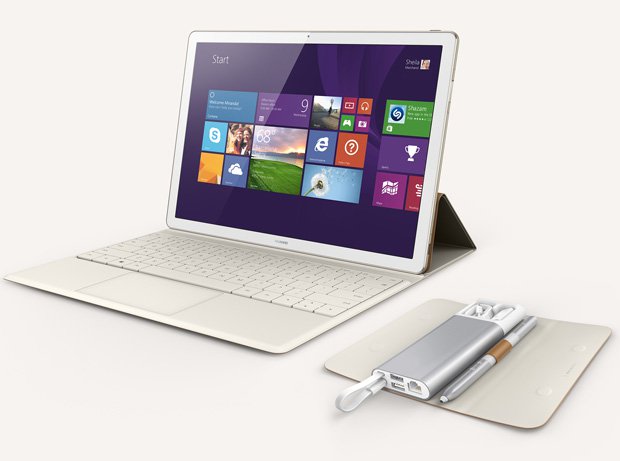 Chinese telecommunications giant Huawei launched a 2-in-1 product that combines the mobility of a smartphone and productivity of a laptop at the World Mobile Congress in Barcelona on Sunday, marking the firm's latest step to expand its consumer business.
The device, called the Huawei MateBook, retails from 799 euros in the European market and 699 U.S. dollars in the U.S. market. It will be made available across international markets from April onwards through both retail and e-commerce channels.
The core device of the MateBook is a tablet with a detachable keyboard much like Apple's iPad Pro, and runs Microsoft's latest operating system Windows 10. It weighs 640 grams, compared to 713 grams for Apple's iPad Pro and the 766 grams of Microsoft's Surface Pro 4, both of which are portable tablets known for their lightweight design. It has a 12-inch screen. The Huawei MateBook has a high-density lithium battery, which lasts for 10 hours once fully charged.
The product features a sixth generation Intel Core m-series processor aimed at handling the most rigorous business demands. Built to operate on Windows 10, the MateBook also delivers tools and features offered by Microsoft Corp, including its latest browser, Microsoft Edge, and the Cortana digital personal assistant.
"We have decided to launch this product to answer the needs of business users. What makes our MateBook unique are are its compatibility and huge variety of functions," said Glory Zhang, chief marketing officer of Huawei Consumer Business.
Although MateBook is being launched later than other comparable tablets, Zhang said it is no cause for concern because Huawei's strategy is to bring to market products once the technology involved can best satisfy consumer needs. "We are not so concerned about being the first in a market. For example, when we launched our smartphone, the market was already filled with many smartphone makers, but our high quality allowed us to win market share."
We have made good use of cutting edge technologies that we developed for our smartphone in our MateBook, which gives us a competitive strength," Zhang says. Huawei, founded in Shenzhen in 1987, has three core business areas. Its carrier business provides telecommunications services to operators like O2 and Telefonica, and it provides telecommunications services to corporate clients. Its third business area is consumer products.
In recent years its consumer business has picked up and has become a key factor in helping build the firm's brand across international markets. Its core products include the Huawei smartphone and Huawei Watch. (STANDARD)