Gulf African Bank strengthens businesswomen with procurement skills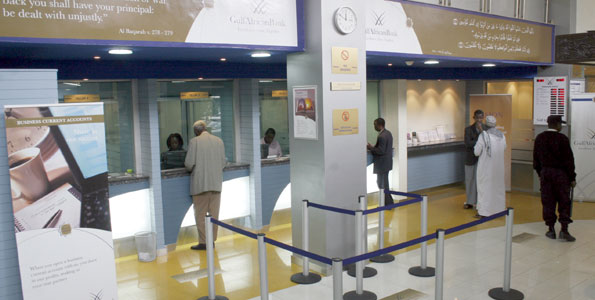 Gulf African Bank, Kenya's premier SME Shari'ah compliant bank, held a conference on 24th May to promote supplier diversity and inclusion.
This initiative is aimed at raising awareness on procurement opportunities and access to trade finance as well as enhancing the procurement readiness for women owned businesses (WOBs) in Nairobi and the rest of the country.
The two-day event, organized in partnership with UN Women, brought together WOBs seeking to gain practical skills in submitting responsive bids and to create awareness aimed at ensuring that they also benefit from Gulf African Bank's (GAB)unsecured trade finance products.
Some of the products that GAB offers include unsecured LPO financing of up to Ksh20 million for those with prior performance history and up to Ksh3 million unsecured LPO business for starters.
SEE ALSO: New tough rules for pharmaceutical players
During the workshop, participants expressed interest in doing business with Gulf African Bank and were trained on eligibility requirements and other business related skills.
"As signatories to the Women Empowerment Principles (WEPs) Gulf African Bank has committed to champion principle 5 of WEPs," said Mr Abdalla Abdulkhalik, MD Gulf African Bank. "We have embarked on this exciting and innovative journey in partnership with UNWomen – to become the leader in providing procurement opportunities in the private sector and inspire others follow our example."
Representing UN Women Kenya Country Office, Ms Karin Fueg, the institution's Deputy Country Director commended GAB for its leadership, commitment and dedication towards the economic empowerment of women using the Women Empowerment Principles as a framework.
NEXT READ: When smartphone is able to read your mind
Ms Banu Khan, the UN Women Programme Analyst for Women's Economic Empowerment, emphasized the need to continuously enhance the capacity of WOBs to participate and benefit fully from economic opportunities open to them.
The two-day programme included a panel discussion on sourcing from women. The session's panelists comprised of experts from various sectors such as entrepreneurship, Trade Finance, Taxation and Procurement. They included Mumina Bonaya, Immediate former Chair, Women Enterprise Fund Advisory Board, Wanjiro Gathira, Immediate Chairperson, Uwezo Fund, and Ms. Najma Jabri, the Head of Women Banking at GAB.
[crp]
US Green Card applications lost
State Department asks applicants to resubmit entries but experts fear that many entrants may not know to reapply
Kenyans and other foreigners who had submitted entries submitted to the US Diversity Immigrant Visa Program, also known as the Green Card Lottery, between October 3rd and 10th risk losing the opportunity to take up US citizenship after they got lost due to a technical glitch.
Individuals who submitted applications during these dates are directed to reapply. "Entries submitted during October 3-10 are not valid and have been excluded from the system; they will not count as a duplicate entry," a message on the US State Department's website said.
Duplicate entries to the program disqualify aspiring immigrants.
"The technical issue has been resolved and a new full entry period will begin at noon, U.S. Eastern Daylight Time on Wednesday October 18, 2017 and will run until noon Eastern Standard Time on Wednesday November 22, 2017," it added, telling applicants to "throw away" any confirmation number or documentation of applications submitted between the 3rd and 10th.
The State Department will be sending automated email notifications to each entrant who applied in early October, instructing them to check the website dvlottery.state.gov "for an important announcement", spokesperson Pooja Jhunjhunwala told Voice of America (VOA) via email.
"We will also work through our embassies and consulates to inform potential entrants of the situation and new registration period using social media and local media outlets," she wrote.
Though the application period has been extended, experts fear that many entrants may not know to reapply.
"At least, they extended the entry period to make it a full month again. But I have doubt that thousands of applicants from the third world, who don't check the internet every day, will know that their prior entry is no longer valid," Kenneth Rinzler, a Washington, DC-based immigration attorney, told VOA.
For would-be Americans who don't have family in the US, or an employer to sponsor them, or who aren't refugees, the diversity visa is the only option. It requires a high school degree or a few years of work experience just to qualify.
If the application is valid, your number is chosen and you pass the other requirements for immigrants, you still need the money to get to the U.S. It's a small portion of immigration to the U.S. every year, but larger than other cornerstones of the program, like employment-based immigrant visas.
In Fiscal Year 2015, the US issued 48,097 diversity visas out of 531,463 total immigrant visas.
Winners of the current lottery would get their visas during the 2019 fiscal year that runs from October 1, 2018 to September 30, 2019.
Natives of all countries qualify except Bangladesh, Brazil, Canada, China (mainland-born), Colombia, the Dominican Republic, El Salvador, Haiti, India, Jamaica, Mexico, Nigeria, Pakistan, Peru, the Philippines, South Korea, the United Kingdom (except Northern Ireland) and its dependent territories, and Vietnam. People born in Hong Kong, Macau, and Taiwan are eligible.
Story credit: voanews.com.