Acting Nairobi County Governor Benson Mutura on Monday, January 18 handed over instruments of power to Deputy Governor Anne Kananu Mwenda.
The move places Kananu firmly in charge of the country's capital, despite mounting legal challenges and a raging debate on the Constitutionality of her installment. Mwenda was sworn in as Deputy Governor on Friday, January 15, hours after being vetted by the Nairobi County Assembly.
"According to the Constitution the DG assumes office in absence of the Governor. I therefore relinquish the power to Anne Kananu," Mutura told reporters while handing over.
Three short years ago, Kananu was the Security Supervisor in charge of Quality Control and Training at the Kenya Airports Authority (KAA). Few Kenyans had heard of her.
The 40-year old's unlikely road to one of the most powerful positions in the country has been paved by several hurdles, including high-profile legal battles.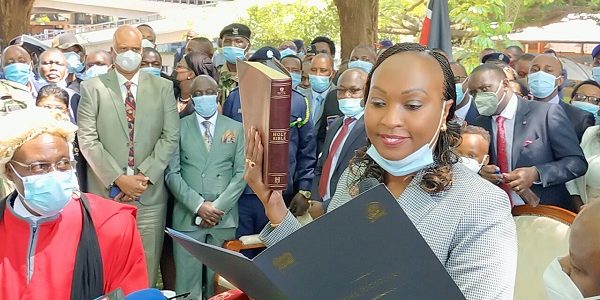 Kananu was first vetted by the Nairobi County Assembly in 2018 after impeached Governor Mike Sonko appointed her Chief Officer for Disaster Management and Co-ordination.
The appointment saw her leave her position at the Kenya Airports Authority (KAA), which she had held for 13 years.
Between 2003 and 2004, before joining KAA, Kananu worked as a Personal Assistant at H. Mogambi and Co. Advocates,
She had also served as a Personal Assistant to the CEO at Mokir Enterprises, a Safaricom consultancy firm responsible for handling customer services, between 2002 and 2003.
Kananu was born in Embu County and attended a nearby school, St Michael Primary School.
She later attended Our Lady of Mercy Girls, Magundu where she cleared her Kenya Certificate of Secondary Education (KCSE) in 1999.
Between 2011 and 2012, Kananu attained two certificates from the University of Nairobi (UoN), in Human Resource Management and Public Relations.
In 2013, she bagged a Diploma in Criminology and Security Management from St. Paul's University.
Kananu furthered her studies and obtained a Bachelor of Science Degree in Criminology and Security Management from Dedan Kimathi University in 2016.
Kananu also has training in disaster management and security as well as active shooting and hostage training.
Her nomination by Sonko in January 2020 as Deputy Governor hit a snag after the High Court barred her vetting pending the hearing and determination of a petition filed by one Peter Odhiambo Agoro.
Agoro had argued that the move by Sonko was illegal considering that, at the time, the Governor was barred by the Anti-Corruption Court from accessing his office due to graft charges against him.
In January 2021, however, Agoro withdrew the petition paving the way for a rushed vetting and swearing in on Friday, January 15.
The vetting began despite legal challenges against the process lodged by Sonko and activist Okiya Omtatah.
Her swearing in, and the subsequent hand-over of instruments of power, has sparked a storm and split legal minds, with questions still looming on the legality of the process.
Kananu noted on Monday, January 18 that an assumption committee would offer guidance on her next steps, amid expectations that she will be the county's first substantive female Governor.