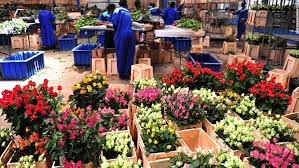 Fresh produce exporters are counting losses to the tune of millions after a strike by aviation workers grounded all flights to and fro Jomo Kenyatta International Airport (JKIA) on Wednesday.
The Fresh Produce Consortium of Kenya (FPC) says all its members reported offloads after flights were either cancelled or rescheduled, a situation which leaves the exporters sweating over possible losses as most of the produce booked for exportation is perishable.
Speaking to journalists on Thursday, FPC Chief Executive Okisegere Ojepat called on the relevant stakeholders to embrace dialogue and let normal business operations run to avoid a similar scenario in the future.
"We want to appeal to the relevant stakeholders to sit together and come up with an agreement. The current situation is not good for business," said Dr Ojepat.
Kenya Airways also estimates that the losses that it incurred on Wednesday could run into billions of shillings.
The national carrier had to contend with an operational nightmare as it had to find means to fly out passengers caught in the middle of the back and forth between the union and the airline's management.
On Wednesday, the Kenya Aviation Workers Union (KAWU) called for a strike to protest over a flurry of issues among them the proposed takeover of Kenya Airways (KQ) by the Kenya Airports Authority (KAA) which the union fears could render a good number of its members jobless.
Read: KQ flies at NSE despite strike at JKIA
The aviation workers were also protesting over alleged mismanagement of the airline and a flawed Human Resource (HR) policy.
KAWU's strike made it impossible for operations to run at the airport and the airline had to ask some of its customers not to head there to ease the chaos.
See also: High end homes prices plummet as oversupply bites
The standoff forced Transport Cabinet Secretary James Macharia's hand who irritated by the ramifications of the strike, branded its organisers 'criminals'.