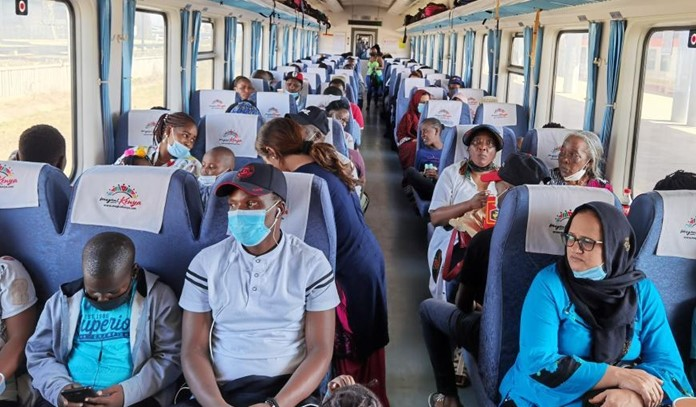 Kenya's Standard Gauge Railway (SGR) passenger services marked the 5th anniversary by celebrating 7.8 million travellers between Nairobi and Mombasa. The maiden Madaraka Express trip from Mombasa to Nairobi was made on 31st May, 2017, and had on board was President Uhuru Kenyatta, among other government officials, who freely interacted with Kenyans and made several stops at county stations.
Read >> Ultimate Guide To Investing In Bitcoin
This was shortly followed by the first passenger train open for the public on 1st June 1, 2017 and it has now become a routine, except for a while during lockdown, when cases of COVID 19 soared in 2021.
Five years down the line, the SGR has become the number one travel option among Kenyans and foreigners alike commuting between Mombasa and Nairobi. If the over 7 million travelers are anything to go by, SGR is by far the most used form of transport by those travelling between the capital city and the sea-side city of Mombasa.
In 2021, SGR ferried a record two million passengers, with 2018 coming second at 1.67 million, according to a report released by the Kenya National Bureau of Statistics (KNBS) in June 2022, and the numbers keep rising as more Kenyans continue to embrace it.
From Mombasa to Nairobi and vice versa, the inter-county Madaraka Express train takes eight hours while the express train takes an average of five hours compared to almost 10 hours taken by buses and other forms of transport.
The Presidential Strategic Communication Unit (PSCU) said the millions of travellers are proof that the SGR is popular among Kenyans and it can only get better.
"Numbers don't lie. The millions of travelers is evidence that SGR is popular and it has a bright future as more Kenyans see the value in its efficiency and reduced travel time," PSCU said in a statement.
The SGR fortunes would most likely triple once the project reaches the port city of Kisumu and later crosses the border to Uganda's capital Kampala as it was initially planned.
Next >> Consumers To Share Tokens In New Kenya Power Plan