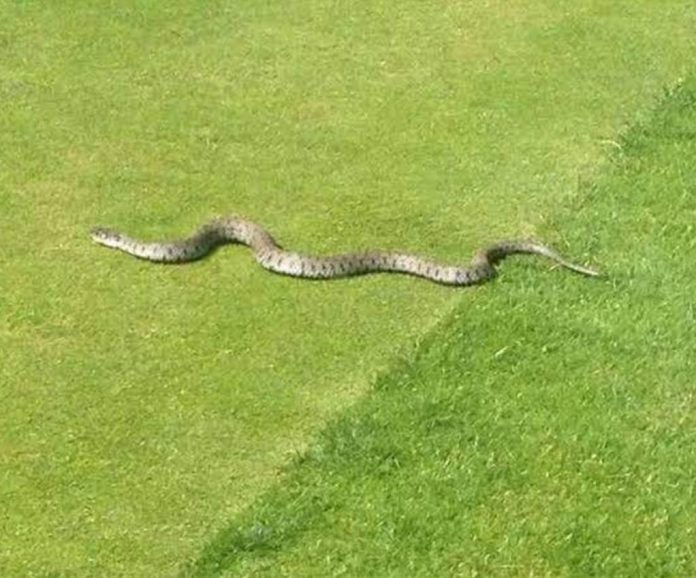 Reports of a snake that slithered to the VIP dais at the Kasarani stadium during the Azimio La Umoja final rally in Nairobi are False. The photo of a grass snake has been widely shared on Facebook alongside photos of crowds, with a claim that the snake caused a stampede in Nairobi at the final campaign rally of Raila Odinga, the Azimio presidential candidate in the 9th August general election in Kenya.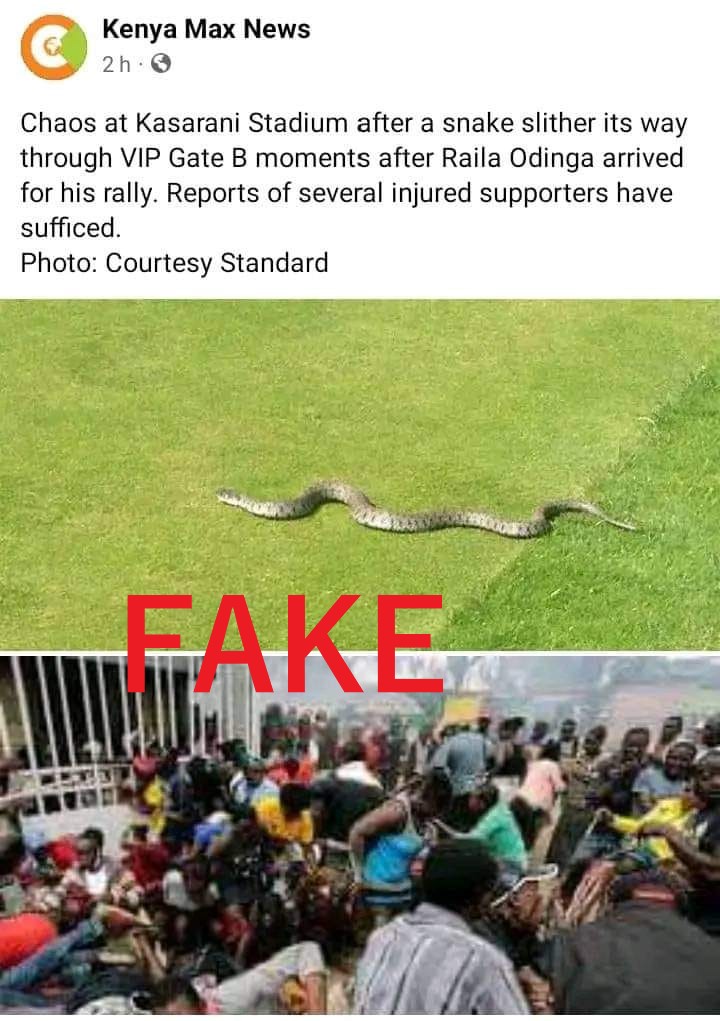 The photo was accompanied by the text: "Chaos at Kasarani Stadium after a snake slither its way through VIP Gate B moments after Raila Odinga arrived for his rally. Reports of several i*****d supporters have sufficed."
One platform called Kenya Max News attributed the photo to Standard.
A Google reverse image search shows the photo was taken at Southern Valley Golf Course in Gravesend in the United Kingdom in 2014 when a snake interrupted a golf tournament.
News portal kentonline.co.uk published the photo on 10th August 2014, with the headline "Snake in the grass joins golfers on the 14th hole at Southern Valley Golf Course in Gravesend." It reported that the "unexpected, but harmless, guest," identified as an a***t female, ignored all golfing etiquette to zig-zag across the 14th hole before disappearing into nearby bushes.
Meanwhile, there were no reports of a stampede during the rally.
VERDICT: The photo of a snake reportedly slithering into Kasarani stadium during the Azimio rally on 6th August was taken four years ago in Gravesend, England, and is therefore false as used in this context.
This fact-check was produced by BUSINESS TODAY with support from Code for Africa's PesaCheck, African Fact Checking Alliance network and the United Nations Development Programme.
Next Read >> Stray Leopard In Murang'a? Not Really, Says KWS