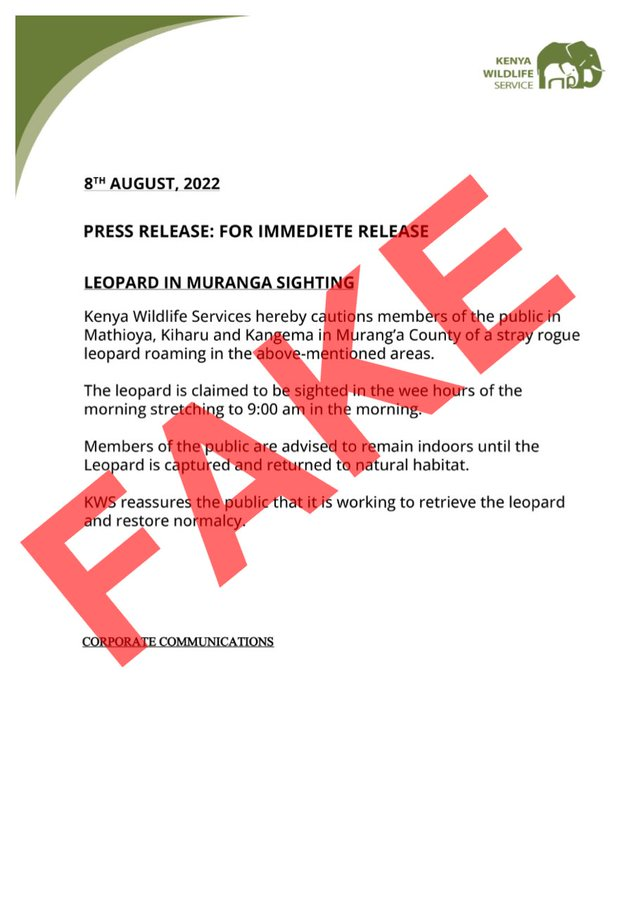 A press statement cautioning a section of residents of Murang'a County over a stray leopard on the loose is fake.
The statement dated 8th August, widely shared in WhatsApp groups and containing the branding of the Kenya Wildlife Service (KWS), claims a leopard has been sighted in Mathioya, Kiharu and Kangema in Murang'a. 
"Kenya Wildlife Service hereby cautions members of the public in Mathioya, Kiharu and Kangema in Murang'a County of a stray rogue leopard roaming in the above-mentioned areas," the statement says. 
"The leopard is claimed to be sighted in the wee hours of the morning stretching to 9:00a m in the morning," it adds.
Signed off by 'Corporate Communications', the statement advises the public to remain indoors until the leopard is captured and returned to its natural habitat. "KWS reassures the public that it is working to retrieve the leopard and restore normalcy," it adds.
A fact-check on the statement has established that it is fake. KWS has disowned the statement and flagged it as fake on its social media platforms.
"Fake Press Release on Leopard sighting in Murang'a County," KWS says in a post on its verified Twitter account. "In case of any wildlife incidences call us on our toll free number 0800 597 000 or our WhatsApp number +254726610509 for immediate intervention."
The update came a day before 9th August, which is Election Day in Kenya. While there have been past cases of leopards straying into Kenyan villages, this particular caution is a hoax.
This fact-check was produced by BUSINESS TODAY with support from Code for Africa's PesaCheck, African Fact Checking Alliance network and the United Nations Development Programme.
Next Read >> Eagle Did Not Grab a Drone At Azimio Rally