A Facebook account bearing the name James Gichana Omoiberania does not belong to Egesa FM station manager James Gichana Omoiberania.
The account, which has been posting Gichana's photos and content purporting to be from him, is not associated with him.
In a statement, Egesa FM, through its verified Facebook page, warned its followers against following the account.
"Kindly note that this is a fake account using the name of James Gichana Omoiberania  -Station manager Egesa FM. Don't be conned," the station stated.
Established in 2006, Egesa FM broadcasts in Kenya in the Ekegusii dialect. Some of its most notable programmes are Boka Boka, Omugusii n'Ekebago, Bwatera Abwo and Entabanania.
In previous posts, Egesa's verified account on Facebook had tagged this unverified account as the one belonging to Gichana.
The account provided by Egesa FM also flagged the fake account which has been posting job adverts.
The fake account has been offering jobs in Canada and other countries, and asking users to share their private information.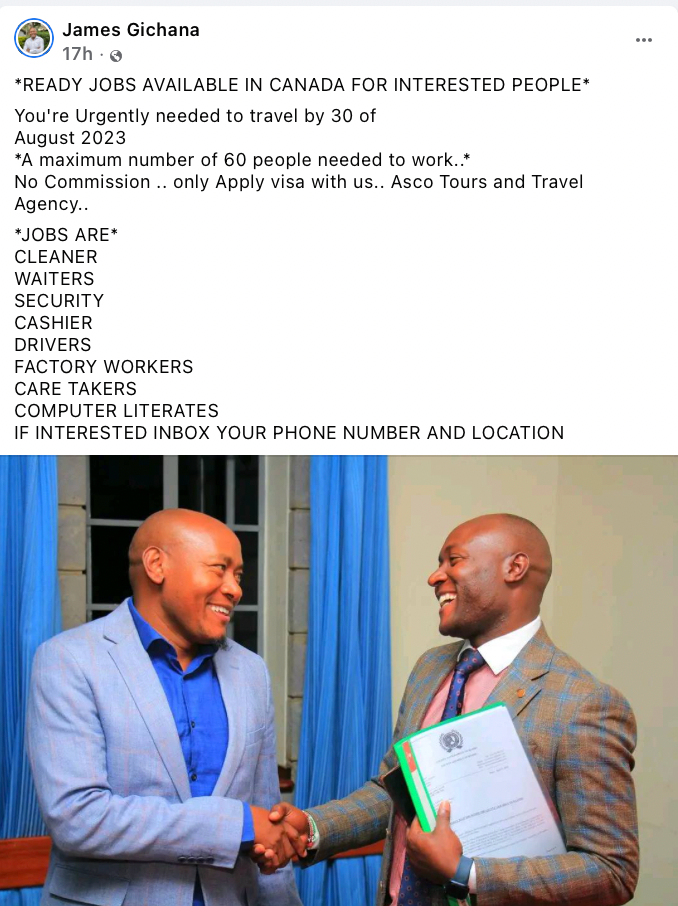 The account, which has previously been flagged by other fact-checkers, has pulled down several posts about jobs in Canada
The account bearing the name James Gichana Omoiberania is, therefore, fake and does not belong to the Egesa station manager.
This fact check was published by Business Today with support from Code for Africa's PesaCheck and African Fact-Checking Alliance.