On January 12, 2021, a video clip of a Ugandan woman being harassed by the authorities shared by Twitter user Anyamah Douglas went viral, just days before the country held its presidential elections in which pop star Robert Kyagulanyi AKA Bobi Wine was seeking to dethrone 76-year-old Yoweri Museveni.
Kyagulanyi's dream did not materialize after the Ugandan electoral body declared Museveni — the incumbent — winner of the poll on Saturday, January 16, 2021 despite claims of election malpractices and irregularities and opposition intimidation.
After the results were announced, Ugandan citizen, Anyamah Douglas, in a tweet claimed that the woman in the video clip was Bobi Wine's wife, Barbara Kyagulanyi.
In the video, the woman is seen arguing with some soldiers who tried to block her way. "Don't push me. Get a court order to push me around," the lady told the female soldier in the clip.Due to the nature of the video, Business Today could not publish the entire clip and has edited out the graphic parts.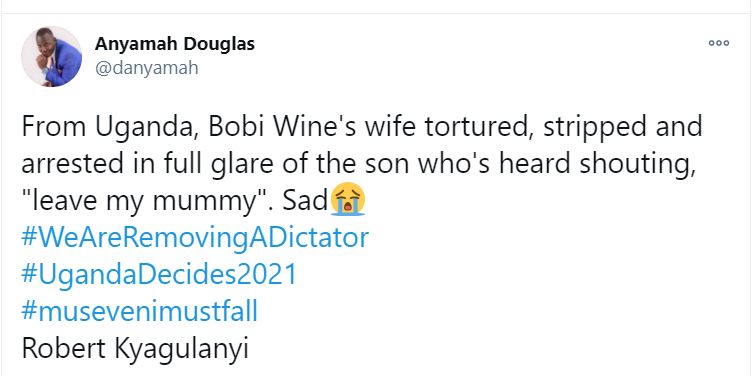 The engagement from Anyamah Douglas' tweet caused confusion on whether the lady was actually Barbie Kyagulanyi and whether the National Unity Platform (NUP) candidate's wife was in the country at the time.
The confusion stemmed from reports that Bobi Wine had evacuated his four children to the United States on January 6 amid concerns over their safety. Business Today has verified that Barbie Kyagulanyi did not travel to the US with her children.
"(President Yoweri) Museveni has been trailing and following my children everywhere," Kyagulanyi told journalists on January 7 without providing evidence to back his claims.


"My family has been a target since I declared my intention to take on President Museveni three years ago. I decided to yield to the requests from my friends abroad and ship my children out of this danger zone because they are minors and not voters," he added.
Barbie Kyagulanyi was in Uganda before, during and after the election and was cordoned alongside her husband at their home after the Ugandan military staged a siege at their residence following the declaration of Museveni's win in the election.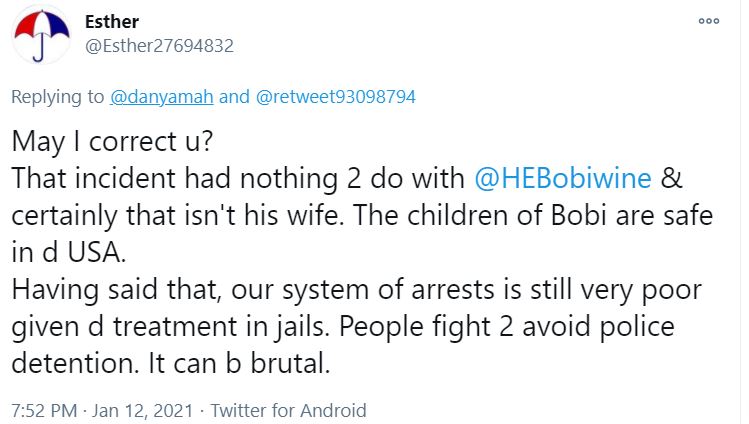 A reverse video search by BusinessToday found that this was an old video that resurfaced during the elections in Uganda, causing confusion and anxiety. Also, a number of users who engaged Anyamah Douglas' tweet pointed out that the lady in the video was not Mrs Kyagulanyi.
[ This story was produced by Business Today in partnership with Code for Africa's iLAB data journalism programme, with support from Deutsche Welle Akademie ]