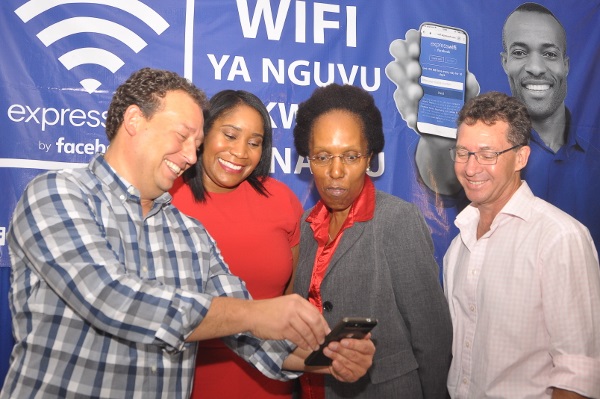 Surf and Facebook have officially launched Express Wi-Fi in Kenya. The Wi-Fi is a fast, affordable public hotspot service, which invades the market of established internet service providers such as Zuku, Jamii Telkom, Safaricom and Airtel, among others.
Surf has already rolled out more than 100 Express Wi-Fi hotspots in several communities in the greater metropolitan area of Nairobi including Ongata Rongai, Limuru, Kiserian, Kitengela, Kiambu, Mlolongo, Ngong, Ruaka, Thika and Wangige. Starting this week, the Express Wi-Fi service will also be available in Kisumu and Mombasa, with many more towns to come.
"Surf's mission is to expand the Kenyan consumers' options for internet access by offering fast, radically affordable internet services where they live, work and play," said Mark Summer, CEO Surf said.
The Wi-Fi is powered by Facebook and Internet Solutions, formerly Access Kenya. The Wi-Fi hotspots are currently focused in areas where people gather for work, transit or entertainment spots such as markets, PSV termin and chill spots. Anyone with a Wi-Fi enabled device can use Express Wi-Fi without switching SIM cards or having a data plan.
Surf is working with local entrepreneurs to host and sell the Express Wi-Fi service. The entrepreneurs offer the service around their locations and customers can purchase a range of packages.
Surf is offering an introductory promotion, where every new customer gets 100MBs every day for 10 days.  In addition, anyone connected to an Express Wi-Fi hotspot can access Facebook Flex and FreeBasics, a collection of websites including content such as news, employment, health, e*******n and local information, for free.
"At Internet Solutions Kenya, we strive to connect people using the power of the internet because when you connect people, great things can happen," said Richard Hechle, CEO, Internet Solutions.
In Kenya, Express Wi-Fi will enhance people connection and help entrepreneurs and developers grow.
"Facebook's goal is to connect people and enable our partners to build sustainable businesses. Express Wi-Fi empowers local entrepreneurs with the tools and technology to start a business to offer internet access to their town or region, while helping their customers connect easily and for an affordable rate," said Uche Ofodile, Regional Head of Africa, Express Wi-Fi by Facebook.