A Facebook page bearing the name of Kitui South MP Dr Rachael Kaki is fake and is not operated or affiliated with her.
The 'Hon. Rachael Nyamai Kaki' page' currently has 1,133 followers and was opened on June 19, 2022, during the campaign period preceding the August 9, 2022 polls in Kenya.
Since then, the page has been posting controversial information about the MP. For instance, on August 1, 2022, the page posted that the MP has been depending on votes from two wards, insinuating that she did not need support from other wards.
The page, which seemingly disseminates information meant to support Kaki, has been issuing such uncoordinated and contradictory statements about other leaders.
Kaki is seeking to defend her seat under the Jubilee ticket.
In the latest post, the page issued a statement accusing Orange Democratic Movement (ODM) candidate for Kitui South parliamentary seat Onesmus Mumo Kingi of arresting Dr Kaki's supporters. The information is inaccurate since arrests in Kenya can be made by the police, and if arrested by a private citizen, must be handed over to the police immediately according to the Criminal Procedure Code.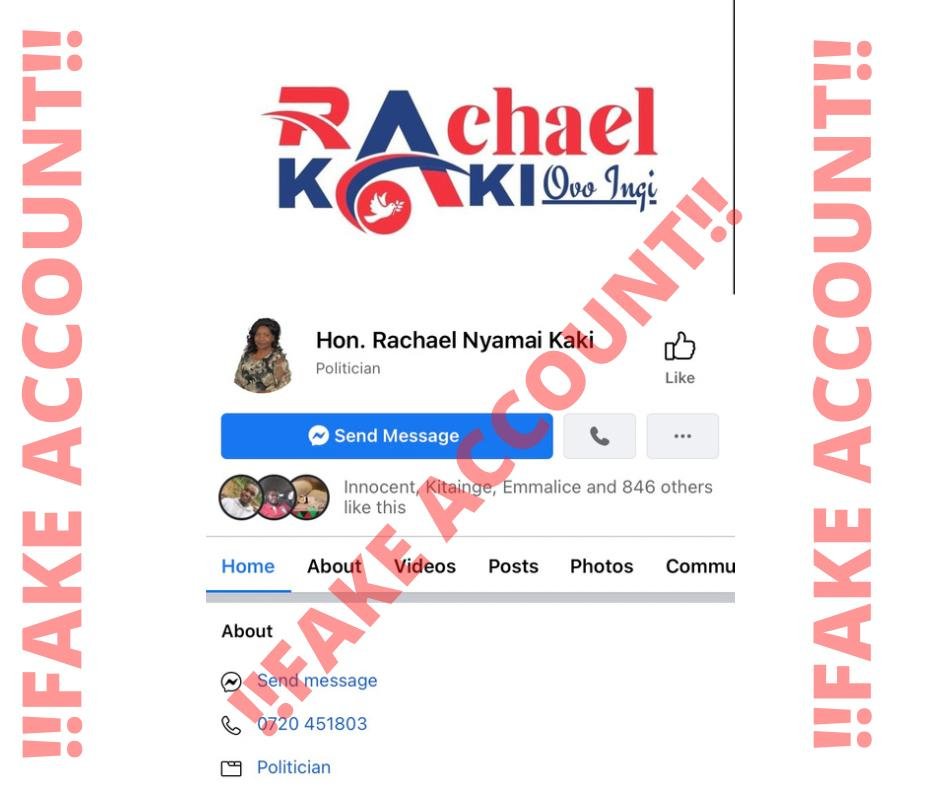 On July 27, 2022, the MP, through her official Facebook account, issued a statement confirming that the page  we are fact-checking is fake. In her statement, Kaki accused her opponents of creating the image to disparage her image during the political period.
"It has come to my attention that my losing opponent(s) have turned their desperation and side shows into tarnishing my name by creating fake/pseudo accounts. As I had earlier published it is a FAKE ACCOUNT (Hon. Rachael Nyamai Kaki) and any information posted there should be treated as FAKE & MALICIOUS!" she stated.
Dr Kaki  was elected to the 11th parliament in 2013 on a NARC party ticket and in 2017 She won re-election on a Jubilee party ticket. She is seeking re-election on a Jubilee Party ticket.
[This story was produced by Business Today in partnership with Code for Africa]