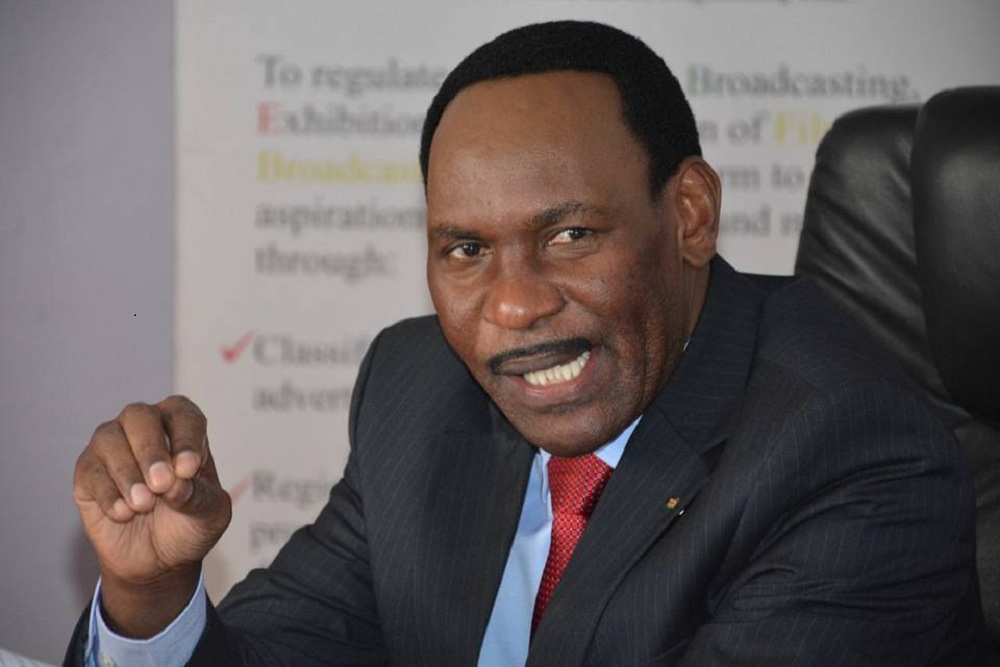 [dropcap]E[/dropcap]ver since the government shut down four TV stations, Kenya Film Classification Board CEO's Ezekiel Mutua has taken it upon himself to justify why the decision was prudent.
That there is no love lost between Mutua, a former sub-editor at Nation Media Group, and his former employer, is an open secret. The relationship degenerated further when, as Secretary General of the Kenya Union of Journalists (KUJ), he was alleged to have made off with television stations that were to be awarded to winners of Journalist of the Year Awards on February 4, 2005.
The union was forced to return the 20 TV sets worth about Ksh600,000 (a tidy sum of money at the exchange rates that were prevailing at the time) that had been donated by Samsung Digital World.
In the latest tirade against the media, Mutua seeks to downplay the decision to switch off Citizen TV, KTN News, NTV and Inooro TV, dismissing those calling it a "clampdown" since the country has over 40 channels and the four therefore form a small fraction of the industry.
In another post on his Facebook Page, Kenya's moral policeman said the worst thing to happen to the media is not being switched off by the Government but when Kenyans realise that they can do without them. "That people can demonstrate to have Miguna Miguna released but not to have TV stations switched on is evidence that not many people miss them or want them back," Mutua said mockingly.
The posts have attracted sharp reactions with some such as Nation Sports Editor Elias Makori accusing him of celebrating the trials the industry is going through yet the media made him.
"What a pathetic, pedestrian argument. The media never made me. God did. Hard work did. Passion did. I was sacked at NMG in 2002 (summary dismissal) after I differed with the NMG management. The bone of contention was a letter I had written to His Highness the Aga Khan and the NMG board over poor pay of journalists and corruption in the media," said Mutua.
"I was the Secretary General of the Kenya Union of Journalists but the management was treating me like a mere employee and threatening me with a sack. I was asked to withdraw the letter or be sacked. I chose to be jobless than go against my values. When I left Nation Centre in February 2002 many journalists celebrated. Few said a word in my defense. Many were used by media owners to tarnish my name. Ever since the media has tried to destroy me at every turn but God has protected me," he added.
Ever since taking over at KFCB, Mutua has had various run-ins with the media, including on implementation of the programming code, which provides for watershed period during which certain types of content cannot be broadcast.
He is now warning that the day of reckoning for individual journalists in coming too.
"To say that we have unprofessional media in Kenya is an understatement. We have a rogue media and self conceited, corrupt journalists who malign people and destroy families, careers and reputations. The day of reckoning will come for them too. And when they are sacked by the media owners they are now defending with their lives, they will realise that they don't own the media houses. They are simply employees. TV stations are off air and people don't miss them because for far too long media houses lost professionalism," he added.
He said TV stations air obscene content and defy regulation. "They malign people daily. They play God with their airtime and space. I meet people everyday who are hurting because of the media. I get complaints about corrupt journalists who cannot cover an event unless they are bribed. I get complaints from parents whose kids are being corrupted by bad content and premature exposure to adult content," the KFCB boss added, lamenting that development journalism has taken the back-burner.