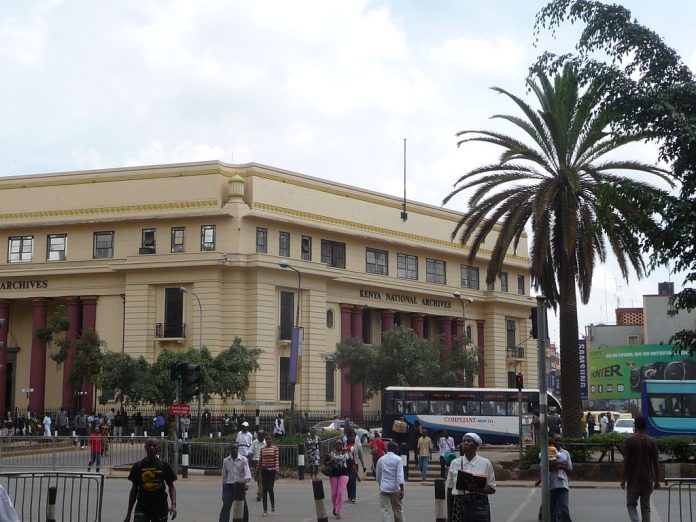 You will see them in the heart of the Nairobi Central Business District (CBD) from as early as 6 am as people stream into town to go about their activities.
They position themselves strategically on downtown street spots with high foot traffic, such as outside the Kenya National Archives along Moi Avenue or O.T.C on Landhies Road, and operate in large groups of 15-50.
They're easy to spot as they usually wear brightly colored – often corporate-branded – outfits, take time to entice passers with words and fliers, and are accompanied by vehicles parked nearby blasting promotional messages and loud music. More often than not, they operate under the guise of undertaking sales and marketing activities for various brands in technology, telecommunications, home appliances and more. They might even use the names of well-known brands to make the operations seem as legitimate as possible.
At the heart of these groups, however, is an organized and elaborate con syndicate controlled by rich and powerful figures in the city. They operate in the full glare of police officers and city council inspectorate officers, fueling complaints from some victims that police are in on it to.
The police including the Directorate of Criminal Investigations (DCI) have previously come under scrutiny for the lax response to what are scams costing Kenyans large sums of their hard-earned cash every day. In some cases, victims have complained that known scammers were arrested before quietly being released.
These scammers have been operating for several years now, and new stories continue to emerge from victims. Police themselves have acknowledged the existence of these scams, and have previously made arrests, but seem unwilling to flush them out once and for all.
On August 4, 2020 DCI detectives in collaboration with multi- agency teams offered a look into the scammers' world after they arrested seven suspected fraudsters along Ronald Ngala Street and charging them with conspiracy to defraud contrary to section 317 of the Penal Code. They were arrested with two Toyota Noah vehicles, two business permits alleged to have been issued by Nairobi City county, mobile phones, tablets and receipt books.
How Nairobians Are Conned in the CBD by Scammer Groups
So how exactly do these scams work? Well, they prey on Kenyans with the promise of great deals and offers on various products or services when their motive is entirely different altogether.
They have loud and visible set-ups, sometimes complete with stands and merchandise or electronics.
They lure people in by telling them about some offer, discount, promotion or special service that they might be eligible for. It could be anything from the promise of free airtime to 50% off on a microwave. These operations are carefully designed to appear entirely legitimate, and scammers sometimes falsely pose as affiliates of well-known companies including leading telcos, e-commerce platforms, electronics and home appliance manufacturers.
Once you're interested, they'll sell you on the pros of the deal and get you to agree, at which point they'll do what, in actual marketing, would be the activation.
At this point, you will be required to sign up in one way or another, a process that they use to obtain crucial personal information as well as cash through mobile money transfers.
You might be asked to send a believably low "registration fee" via mobile money. As you do this, with tens of scammers around you, they can discreetly obtain your mobile money PINs. They will then offer to assist you to complete the registration on your device to enable you to receive your rewards – and during this time they wipe accounts clean using the PINs they obtained and clear transaction messages.
In other cases, they might ask for your national I.D card during the registration, in the hope that the victim might me among a large number of Kenyans who use their year of birth as their four-digit M-Pesa PIN.
Walking on the streets of Nairobi, you must remember to be cautious when approached by anyone including those attempting to sell you on offers and services. Make sure you do not give out any personal information, and ensure that any registration or activation activities are legitimate before parting with your money.
Sample comments from Kenyans on social media on the growing menace:
"Even downtown near St. Peter, more than a hundred people conning innocent wananchi daily," wrote Varis Papa.
"Hawa wasee hugawana loot hapo nyuma ya Naivas ya Githurai 45 after a day's hard-work. (These guys split the loot behind the Naivas at Githurai 45 after a day's work) Never entertain them, else it will end in tears," shared Jude Joroge.
"Wafanye jambo bana. It's too much.And the elderly trying to provide for their families ndo wanakuwa conned," wrote one Chief.