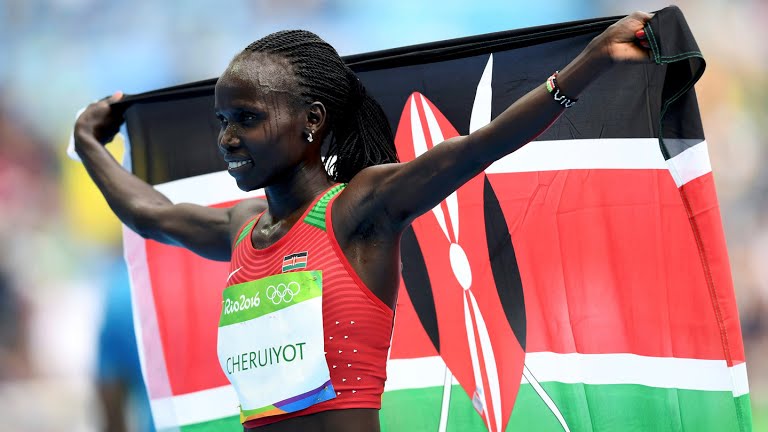 World champion Vivian Cheruiyot on Friday won Kenya a silver medal in the women's 10,000m at the Olympic Stadium in Rio de Janeiro in a race won by Almaz Ayana of Ethiopia in a World Record time of 29:17.45.
Ayana smashed one of the longest-held records in athletics to claim the first gold of the Olympic track and field competition.
Cheruiyot, the reigning world champion in the distance, attempted to keep pace with the dominant Ethiopian but fizzled out in the latter stages of the race as Ayana strolled to the finish line in a new World Record.
Cheruiyot came second for silver in 29:32.53 while two-time Olympic champion, Tirunesh Dibaba recorded a personal best time of 29:42:56 to settle for bronze on a memorable day for the Ethiopians.
Cheruiyot had kept close to the Ethiopians with her compatriots Alice Aprot and Betsy Saina also forming part of the leading pack in the initial laps.
The 24-year-old pulled away from the field midway through the race and shifted gears leaving Cheruiyot, who at this point was the only of the three Kenyans giving chase, struggling to keep up.
[crp]
The race, which had been dubbed as a Kenya-Ethiopia affair, living up to its billing with the East Africans controlling the race from start to finish.
As the race progressed and the field continued to thin out, it was evident that the winner of the race was emerge amongst the quartet of Ayana, Dibaba, Cheruiyot and Aprot, with Saina and the third Ethiopian in the race Gelete Burka dropping further behind.
Aprot (29:53:51) and Saina (30:07:78) wrapped up the top five places in the race with Ethiopia's Burka finishing a distant eighth in a time of 30:26:66. Ayana's winning time was nearly 14 seconds quicker than the previous world best over the distance of 29:31.78 set by Wang Junxia in Beijing in 1993.