Smartphone sales across the world are forecast to dip in 2019, but Africa is having none of that. The continent is bucking the worldwide trend as it is forecast to see the number of units of smartphones sold increase.
Research firm Gartner Inc. has released the numbers which foresee that most of the world's regions are bound to experience a major hit in as far as smartphone sales are expected over the course of the year.
That is however going to be different on the continent, as rather than a plunge, Africa is forecast to see sales inch higher.
From last year's projection of 88.7 million sales, smartphones in Sub-Saharan Africa could hit as high as 90 million units sold in 2019.
The forecast is in line with smartphone penetration projections, placed at around 26% and expected to double over the next five years.
Whereas Gartner Inc.'s regional demarcations do not involve North Africa, the region that is placed alongside Middle-East is also forecast to increase from 75.6 million units to 76.3 million. This means Africa's overall outlook is positive for the year.
Apart from Eurasia, all other regions of the world assessed by Gartner Inc. will in all likelihood see a slump in 2019.
"Japan (-6.5%), Western Europe (-5.3%) and North America (-4.4%) are set to exhibit the worst declines in sales of smartphones," the company said in a statement on its website.
The overall impact will see an estimated slump of more than 2% in smartphone sales across the world, from around 1.55 million in 2018 to 1.51 million this year.
"Worldwide sales of smartphones to end users will total 1.5 billion units in 2019, a 2.5% decline year over year," Gartner Inc. said.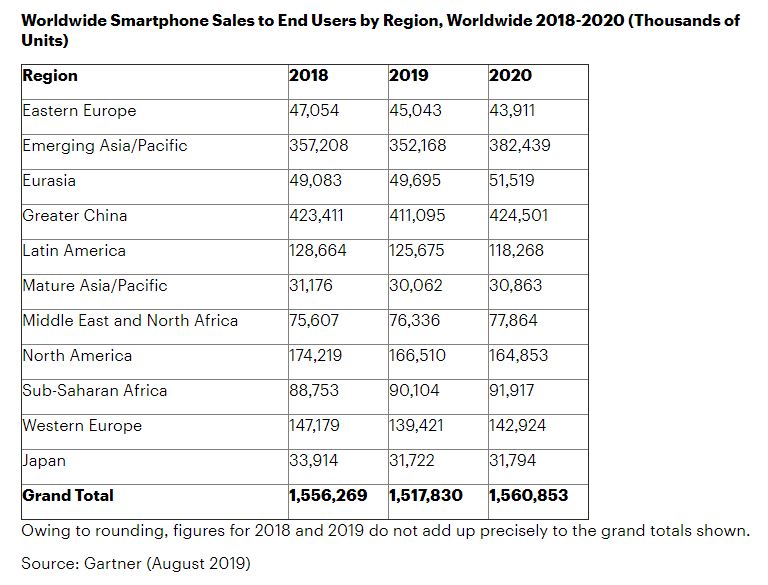 Lengthened smartphone replacement cycles and a US ban on Huawei have been attributed as among the causes for the decline, especially in H1 of 2019.
Annette Zimmermann, research vice president at Gartner said, "We expect demand to get even weaker in the second half as replacement of high-, low- and mid-end smartphones continues to slow, due to low value benefits."
The global research firm however added that the sale of smartphones in the world will pick up in 2020, thanks largely to the drive for 5G.
"Sales will start to ramp up in the second half of 2020 as the coverage and availability of 5G hardware services improve," said Ms. Zimmermann.
For 2020, smartphone sales in Sub-Saharan Africa will grow to 91.9 million.