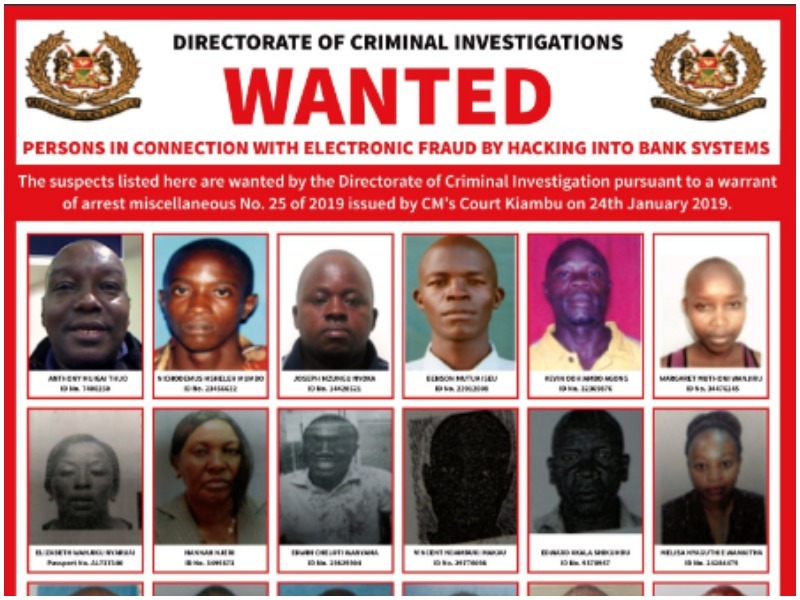 Images, names and ID numbers of persons suspected of electronic fraud have been released to the public by the Directorate of Criminal Investigations (DCI).
The suspects are been searched for on suspicion of having hacked into banks.
In local dailies and on social media, DCI released the details of the suspected persons and provided contact platforms by medium of phone call, sms or email for members of the public to report to.
According to Nation online, the number of the suspects is 130, and was released via a seven-page pullout in local dailies on January 30.
The list includes 100 males and 30 females.
Warrants of arrest for the suspects have been issued by the Milimani and Kiambu Courts as from January 24.
READ : HEAVY DRINKING ALTERS DNA CAUSING ALCOHOLISM
On the DCI Kenya Twitter page, a list of the suspects for whom the warrant of arrest from the Kiambu Chief Magistrate's Court was issued has been pinned as the main tweet.
"The suspects listed here are wanted by the Directorate of Criminal Investigations pursuant to a warrant of arrest miscellaneous No. 25 of 2019 issued by CM's Court on 24th January 2019," a poster in the tweet said.
#WANTED|The following persons whose photos appear below are wanted by the @DCI_Kenya. If you have any information about their whereabouts,kindly contact @DCI_Kenya~ECCU Section or at your nearest Police Station. You can also call or sms +254772627435,0203343412,(+254)20-2861097. pic.twitter.com/gefkSMXyE8

— DCI KENYA (@DCI_Kenya) January 30, 2019
Those pinned on the Twitter page of DCI number 58.
DCI has been using social media to publicise the arrests they make, and on occasion has released names of suspects calling on the public to report the whereabouts.
Last year, DCI came under fire from the Judiciary who stopped the crime busters from posting mug shots of suspects and arrested persons online.
READ : JUMIA IN BID TO BREAK WORLD SPEED DATING RECORD
A Nairobi resident, Henry Shitanda had argued that posting of suspects' photos online before
they are charged in court is an infringement of the rights of an accused.
The High Court had agreed with his petition, restraining the Inspector of General Police and Director of Criminal Investigations from posting suspects and or accused persons booking photographs on the internet and social media and more specifically on the DCI Facebook and Twitter page pending the determination of the petition.
The DCI however has still continued to post the images.
The petition will resume at the courts in March.
SEE ALSO : KCB DISLODGES EQUITY, CO-OP BANK IN CUSTOMER LOYALTY INDEX