[dropcap]N[/dropcap]ation Media Group has found itself walking on hot coal bare-foot after what appears to be a mix-up in the Daily Nation obituary pages caused outrage among Kenyans.
The d***h and funeral announcement of one James Richard Wanjagi, published on page 49 of today's Nation, bears the photo of controversial businessman and billionaire Jimmy Wanjigi, who has been financing NASA campaigns.
Most readers and NASA supporters read a conspiracy theory to malign Wanjigi, one of the high-profile personalities present at Raila Odinga's swearing in on 30th January at Uhuru Park. Daily Nation, the highest circulating newspaper in Kenya, has received flak for this, with some accusing it of being used by government operatives to feign the d***h of Wanjigi, who hasn't been seen in public since that day.
Nation Media Group has been forced to issue a statement apologizing over the issue to forestall a backlash from NASA supporters, saying the photo of Jimmy Wanjigi was erroneously published.
"Nation Media Group does not condone such publication, which clearly goes against our editorial policy," said NMG corporate affairs manager Clifford Machoka. "We have taken immediate action against those responsible for the placement of the announcement, including reporting the matter to the police for further investigations."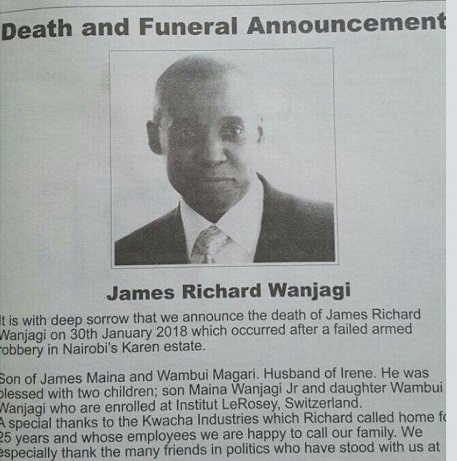 With political tension in the country caused by a crackdown on media and dissent from NASA, there have been rumours of people marked for detention or elimination and such publication can be unsettling.  Some argue the government could be using the 'mix-up' as a diversionary tactic for NASA it plans its next move after deporting self-declared NRM general Miguna Miguna.
Previously media shy, Wanjigi began attracting media publicity when it emerged that he had entered a deal to finance Raila Odinga's campaigns ahead of the 8th August general elections.
Such mix-ups do happen in situations where people share names and those placing the images have no institutional memory on prominent personalities. Wanjigi's case, though, raises questions – and comes at a very tense time – especially given that the subject of the obituary is James Richard Wanjagi. Unless if Nation has archived Wanjigi's photos in same names.
Curiously, the obituary has more issues. It was published on 7th yet the burial was supposed to be on Tuesday 6th!