Citizen TV is still the most viewed TV channel in the country boasting of 35% of the market share, 22 percentage points clear of the next most popular channel NTV at 13%, followed by KTN Home 11%, KTN News 9% and Inooro TV 7%
The Status Of The Media Report 2020 authored by the Media Council of Kenya (MCK) puts K24TV at sixth position behind Inooro TV followed by KBC (5%), Switch TV (2%) and KTN Burudani (1%).
The report bases its findings on research conducted between September 25, 2020 and October 1, 2020 with respondents being engaged via Computer Assisted Telephone Interviews (CATI).
News is the most consumed program format across the country with 41% of the respondents indicating that this is the item they have watched most in their households in 2020. However this is a drop compared to 2019 when 52% of Kenyans pointed at news as their favourite.
Music magazine shows are the second most popular programme format on TV (12%), soap operas (10%), movies (10%), drama (7%), politics (6%), comedy (6%), sports programmes (5%), documentaries (1%), edutainment programmes (1%), kids programmes (1%) and reality tv (1%).
During the survey period,TV viewership increased to 74% compared to 73% in 2019, an indicator that more people are watching TV this year.
Radio in Decline?
The report also shows that radio listenership fell to 74% down from 84% in 2019 which could be attributed to the medium shedding part of its following to social media and TV.
Radio Citizen is the most popular station in the country gobbling up (19%) of the market share followed by Radio Jambo (14%), Radio Maisha (10%), Inooro FM (5%), Kameme (5%), Milele FM (5%), Classic 105 (3%) and Radio Taifa (3%).
By the same token, news was the most listened to programme format on radio across Kenyan households at (45%), music (28%), politics (7%), comedy (5%), edutainment (4%), drama (4%), sports (4%), soaps (1%) and documentaries (1%).
Print Media
Newspaper readership has fallen to 25% although the number is a 2% increase compared to 23% in 2019. The fall in the popularity is espoused by a statistic from the report that indicates that 77% of the respondents indicated that they do not read a copy at least every week.
Daily Nation, a perennial market leader in the print category is still the most popular newspaper brand at (47), The Standard (27%), Taifa Leo (8%), The Star (4%), The Nairobian (3%), People Daily (3%), Business Daily (2%) while the other brands settled for 6% of the spoils.
51% of the respondents indicated that they prefer buying their own copies.
Social Media
Digital media has increased in popularity over the last decade. The growth can be seen when comparing the MCK social media statistics for 2019 and 2020.
Whatsapp was the most popular social media platform in 2020 at 36% compared to 32% in 2019. Facebook came in second at 35% compared to 31% in 2019.
Twitter maintained its numbers at 10% though it rose to the third most popular platform in 2020 pipping YouTube and Instagram which were ahead of the bird in 2019.
Instagram shed off 1% to post 9% compared to 10% last year.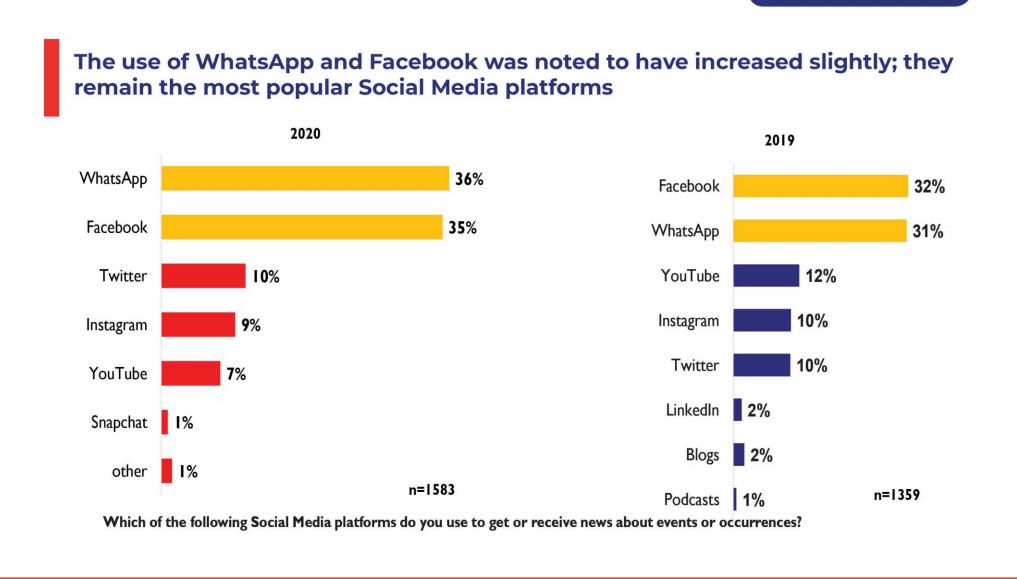 Whatsapp (41.8%), Facebook (41.5%), Twitter (8.6%), Instagram (4%) and YouTube (2.9%) are the most preffered social media platforms for the dissemination of information.