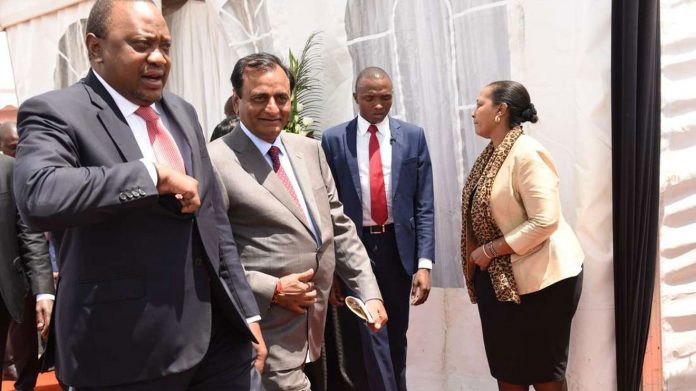 The Competition Authority of Kenya (CAK) has advised State House not to implement proposals by Devki Group, billionaire industrialist Narendra Raval's firm, that would make importing clinker more expensive. Clinker is a key raw material in the production of cement.
Devki Group owns Simba Cement,  National Cement, ARM Cement and Cemtech. It has spent over Ksh6 Billion in an expansion plan over the past few years including on the acquisition of Cemtech and ARM Cement.
Raval, who made it in steel before setting his sights on cement, is pushing for import restrictions on clinker.  CAK's analysis shows that the Devki entities control a combined 84 percent of limestone mining allocation. To make clinker, limestone is mixed with clay soil and iron ore.
The proposals have been likened to protectionist policies implemented in Nigeria by former President Olusegun Obasanjo that helped Aliko Dangote build a market-leading manufacturing conglomerate, cementing him as Africa's wealthiest man.
Raval's Devki Group has argued that the country has the capacity to produce enough clinker locally to meet demand. He wants the import duty raised from 10% to 25%, a move that has sparked a rare breaking of the ranks among some of Kenya's biggest manufacturers – Bamburi Cement, Savannah and Rai (controlled by the Rai family).
Noting that imported clinker was cheaper, the firms have argued that raising the duty would serve to hand Devki control of market prices thanks to their control of clinker, which is ground with gypsum to make cement.
They had opposed the proposal, further highlighting the recommendation of the the National Independent Clinker Verification Committee that firms be given a grace period of four years before any increase of import duty.
Now, the Competition Authority of Kenya (CAK) has told State House, the Treasury and government departments to reject the proposal stating that raising import duties would distort the market.
"Increasing the current import duties will therefore distort the market, entrench National Cement's position as a cement manufacturer and a clinker supplier and placing it at a position to foreclosing competitors and barring entry into the market."
"Further, increasing duty will make it more costly [sic] for firms to import clinker yet sourcing from local manufacturers is even more expensive. The proposal seems not to be attending to an existing market/consumer problem but a private/shareholder investment strategy," a letter from CAK reads in part.
Raval notably pledged Ksh100 million in free oxygen supply to Kenyan hospitals at the height of the Covid-19 pandemic in Kenya in April 2020.
In March 2021, it emerged that his firm had taken out a Ksh328 million ($3 million) loan from Standard Chartered Bank to finance initiatives meant to fight the Covid-19 pandemic, including supply of oxygen cylinders to public and private hospitals. Part of the funds were to be spent on free supply of Oxygen to public hospitals in Kenya.
The loan was sourced under the bank's global $ 1 billion Covid Financing initiative.