[dropcap]T[/dropcap]he Catholic Diocese of Murang'a has ventured hospitality by investing in high-end conference facility in Nairobi. The multi-million Resort located off the Northern bypass in Kiambu, about 15km from Nairobi, has a face value of Ksh500 million.
The Catholic Diocese of Murang'a originally wanted to build a standard retreat centre for church retreats or rental apartments, but settled on a commercial retreat and conference centre.
Elysian Resort sits on a five-acre property with an additional undeveloped 2.5 acres adjacent to it and at the boundary of Nairobi's Runda Estate and Kiambu County.  "Because of our location and size, the original idea morphed to what is a modern conferences and convention facility with a distinctive blend of comfort, style and hospitality," says Rev. Fr. Elias Kabutu the Diocese Finance Administrator.
The first phase of the project comprises conference rooms that can accommodate over 350 people. The facility also boasts 42 rooms that are elegantly furnished in natural tones with a distinct African touch and intricate designs, a contemporary restaurant, a bar, a coffee shop, a poolside restaurant, a high-tech gym and an amazing kid's park.
It is set on vast grounds that have been manicured to what is ideal for events like graduation celebrations, weddings and birthday parties.
May 1st 2018 marked a milestone for Elysian Resort as it opened doors to the public. The first guests had checked in on April 30th.  "The response for walk-ins, conferences, meetings and events has been extremely encouraging." says Fr. Kabutu.
RELATED: FIVE TIPS ON GETTING PERFECT MIX OF BUSINESS & PLEASURE
The resort targets church retreats, events, children recreation, capacity and team building exercises, personal recreation in the gym, conferences and meetings for corporates, NGOs, government as well as individual events and accommodation.
"There are no restrictions as this is a purely commercial facility," he said. "We serve all guests without discrimination and walking around you will feel the Church in our culture of service to humanity.  And of course the presence of Chapel for prayers for our Christian clients is a worthwhile addition."
The construction of Elysian Resort has been funded mainly through the benevolence of the parishioners of the Catholic Diocese of Murang'a, friends and well-wishers.
Elysian Resort, which will employ over 400 people when complete, has opened at a time when tourism and business travel sector is picking after a two-year slow-down.  Elysian management is betting on the growth of hospitality sector where the last five years have seen over 10 other establishments open in Kenya. Research by PriceWaterhouseCoopers says that Nairobi needs an additional 2,400 beds to meet growing demand.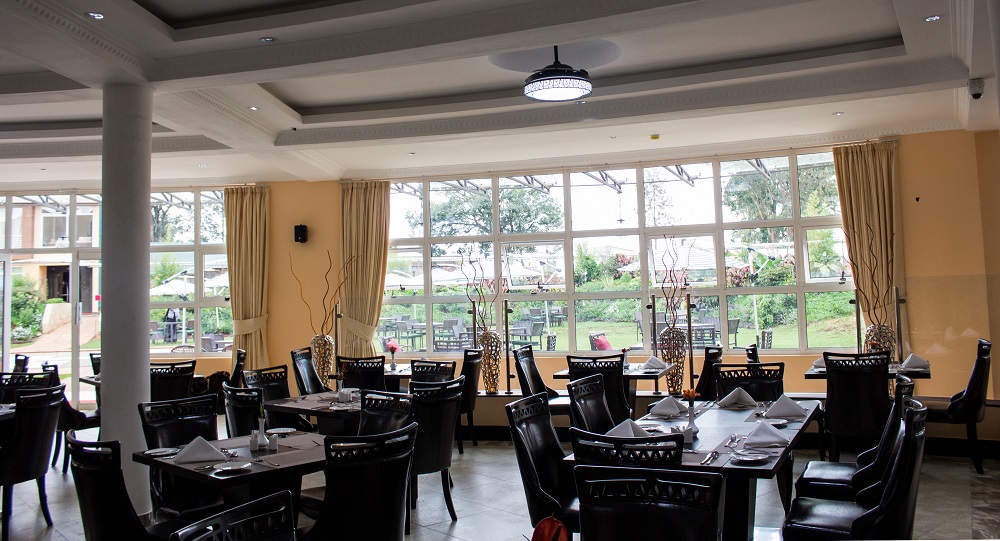 To tap this potential Elysian Resort management says it will kick off phase two next year to double its room capacity and eventually the third phase to push the number  to 120 as it aspires for four-star rating. "The project's proceeds will contribute towards the Diocese' overall objective of evangelization, and supporting of over the 50 socio-economic projects the Diocese is currently running," he said.
READ ALSO: INSURANCE CEO TIPS ON TRANSFORMING YOUR HOUSE INTO A HOME
The construction of Elysian Resort has been funded mainly through the benevolence of the parishioners of the Catholic Diocese of Murang'a, friends and well-wishers.
The last two or so years have seen both international and domestic tourism grow in Kenya, attributed to the lifting of travel advisories. Growth of domestic tourism has been strong, directly linked to the improving economic environment and a series of incentives introduced by government.
There has been growth in business meetings and conferences in the country. In 2016, Kenya hosted several international conferences, and will in October this year be hosting the Africa Hotel Investment Forum (AHIF), which is the premier hotel investment conference in Africa, attracting many prominent international hotel owners, investors, financiers, management companies and their advisers.
Growing tourism sector
"This steady growth of tourism and travel means demand for additional beds and conference facilities," said Fr. Kabutu
International hotel brands led by Radisson, Marriot and Best Western are some of the newest facilities in Nairobi as well Sheraton, Ramada, Hilton, and Mövenpick.
Tourism has a role to play in President Uhuru Kenyatta's Big Four agenda because it is a labour intensive sector and its growth translates to job creation. "In addition to construction labour, this Resort alone has employed over 53 people so far and these numbers will increase as business picks up.
READ: OPPORTUNITIES OFFERED BY EXPANSION OF HOTELS IN NAIROBI
"It is therefore prudent to say that our local investors should not shy away from investing in tourism; they should rather boldly go for their share in the space that international players are elbowing for," he said.
The Rt. Rev. James Maria Wainaina, the Bishop of Murang'a Catholic Diocese said the Resort will provide proportionate financial resources that will go towards the work of God. He said Elysian Resort has been built on the tenets of a "peaceful and heavenly" garden and right from its architectural design to its décor of nature and therefore a place of retreat and growth.