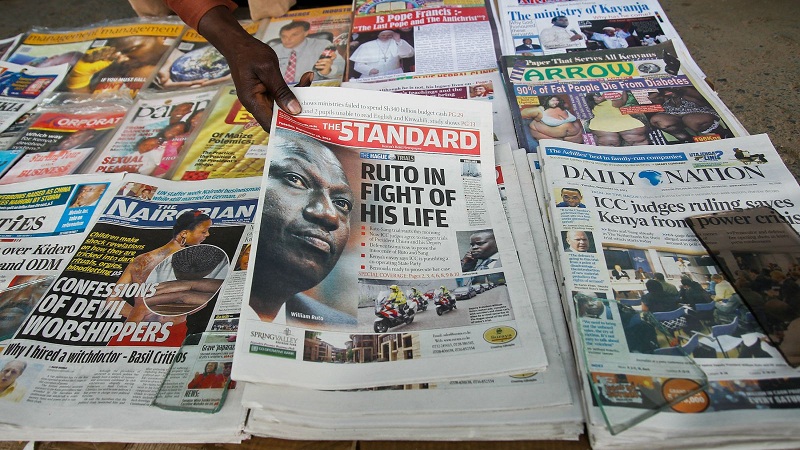 The saga surrounding the macabre k*****g of Rongo University student Sharon Otieno continues to take interesting turns after it emerged that residents of Migori are being kept in the dark as all newspapers dispatched to the area are bought off the streets early in the morning.
The scheme, which has been linked to some county government officials, did not spare supermarkets and other outlets selling the daily newspapers.
Latest reports indicate copies of the newspapers were at the weekend traced to the residence of one of the county executive committee members.
While the actions are not c******l, it is likely to further put Governor Okoth Obado, who is said to have had a romantic affair with the s***n student and has been linked to her m****r, in a tight spot even as he continues to deny playing any role in the mysterious k*****g.
"Sweeping" newspapers off the streets has been a tactic favoured by those who do not want the public to consume information injurious to their reputations.
In October 2016, for instance, copies of Business Daily disappeared from the streets of Nairobi after the paper went to town with an exclusive lead story detailing what came to be known as the Ksh 5 billion Afya House s*****l.
The story by journalist Stellar Murumba told of how Ministry of Health top officials have conspired to s***l Ksh 5 billion of taxpayers' money, including funds meant for free maternity healthcare.
The Nation Media Group was forced to reprint the paper. It is suspected that then Health Cabinet Secretary Nicholas Muraguri, who had threatened the journalist over the expose, was behind the "sweep."
C********n cartels and prominent personalities have also over the years cleaned the streets of copies of the alternative newspapers ( gutter press) whenever they publish negative stories about them.
While media houses would not complain as it means more sales, it presents a moral dilemma for them as they do not fulfill their duty to inform the public.
READ: THE CURIOUS GUEST AT MIKE SONKO FATHER'S ANNIVERSARY 
Meanwhile, early on Monday, the High Court in Homa Bay ordered police to charge Obado's personal assistant Michael Oyamo, who is being held over the k*****g, on Tuesday or set him free.
Former Kanyandoto Ward Member of County Assembly (MCA) Lawrence Mula has also been a******d and would remain in custody for two weeks.