Capital FM is set to kill its long-running evening show, Hits Not Homework, to replace it with an all-new programme
Hits Not Homework has been on the air for over two decades, targeting the 18-24 demographic with the latest music, relatable conversations and the famous 'Top 9 at 9' chart.
Its replacement will be known as 'The Hype Show'.  It is set to air for the first time on Tuesday, December 1 from 7 p.m to 10 p.m
Sources at the station told Business Today that the show would air on weekdays from Monday to Thursday, in the traditional Hits Not Homework time-slot.
The Heat 984, which airs on Friday evenings from 7-9 p.m, will also be replaced by an all-new show known as 'The Big Bounce'.
Notably, the changes will also see a new presenter unveiled as host of The Hype Show.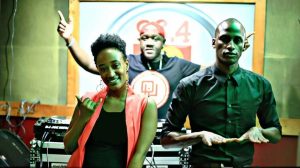 Hits Not Homework  and The Heat were most recently hosted by Miss Mandii and Neville alongside DJ Roudge, DJ Joe Mfalme and Joe Kisila.
Neville has since returned to Homeboyz Radio after being unveiled as part of an all-new morning show cast in November.
Homeboyz' rebranded morning show, The Lift Off, will be hosted by G Money, Neville and popular content creator Chebet Ronoh.
Miss Mandii, on the other, hand, was earlier in November unveiled as the host of the second season of Freshly Cultured, a Pwani Life-sponsored cooking show which airs on KTN Home.
Hits Not Homework is widely considered one of the most iconic shows ever to air on Kenyan radio.
Over the years, it has had some of the biggest names in the industry as its hosts; such as Eve D'Souza, Soulo, Joey Muthengi, Amina Abdi Rabar, Anita Nderu and Anne Mwaura.
In recent years, however, its ratings have been reportedly waning with the show dogged by controversy.
A 2018 talent search to find the next Hits Not Homework host after Amina Abdi's exit, for example, turned into a PR nightmare for the station.
Nderu, who was eventually unveiled as the new host alongside Anne Mwaura, Tracy Wanjiru and Jo Kisila,  was among judges on the selection panel sparking a floodgate of criticism from Kenyans on social media.
The group left the show barely a year later, in February 2019 with the station citing expiry of their one-year contracts, even as multiple reports claimed that the move was informed by low ratings.
The topics of discussion on the show, centered on relationships and other social issues, also did not augur well with a section of Kenyans.