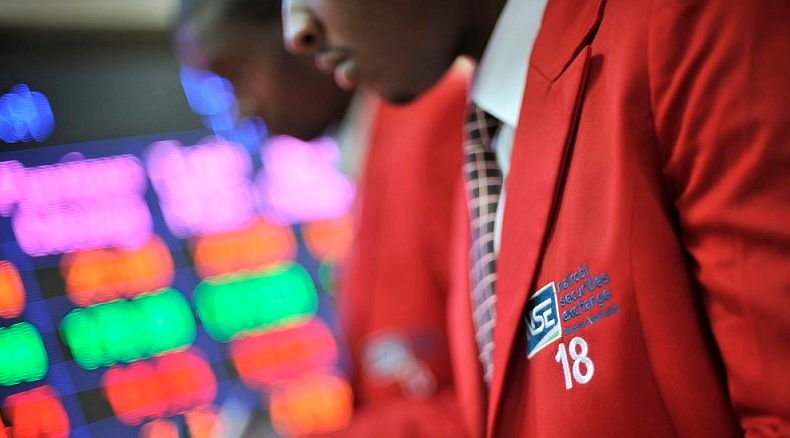 The first day of trading in June at the Nairobi Securities Exchange (NSE) saw turnover decline as against the final day of trading in May.
As the bourse came to a close on June 3, turnover declined to Ksh390 million on a volume of 14.8 million shares.
On May 31, a volume of 16.6 million shares valued at Ksh413 million posted on Friday.
A total of 716 deals were transacted at the bourse, falling from 930 deals.
Market capitalisation at the NSE also dipped to Ksh— trillion as against Ksh— trillion posted previously.
The Banking Sector managed to transact 82% of the day's total turnover, with shares worth Ksh320 million.
Equity Group emerged as the day's biggest mover with 5.8 million shares valued at Ksh223 million.
[Read: Standard Group, NMG stocks plunge at NSE]
Co-op Bank followed with a total of 4.19 million shares valued at Ksh50.7 million.
The lender however slumped in share price to Ksh12.10, a drop of 2.8%.
Despite the decline, all the indices marked positive gains.
The NSE 20 share Index was up 1.60 points to stand at 2678.52.
All Share Index (NASI) added 0.54 points to settle at 150.46.
The NSE 25 Share index picked up 3.04 points to stand at 3619.42.
The Bond Market meanwhile had bonds worth Ksh2.1 billion transacted.
NSE Sectors
After the Banking Sector, the Telecommunication Sector had the day's second most traded value.
Registering 13.4% of the day's traded value, the sector's only company, Safaricom, managed to move shares worth Ksh52 million.
Safaricom's total volume of shares at the bourse amounted to 1.8 million, with the giant telco transacting at between Ksh27.40 and Ksh27.80.
The remaining 5% of turnover was transactd by the other 10 remainins sectors at the bourse.
The Commercial & Services Sector for example had shares worth Ksh7.4 million, which accounted for 1.90% of the day's turnover.
The Energy & Petroleum Sector had shares worth Ksh3.9 million transacted which accounted for
1.02% of the day's traded value.
[See Also: Can e-commerce be Africa's economic goldmine?]